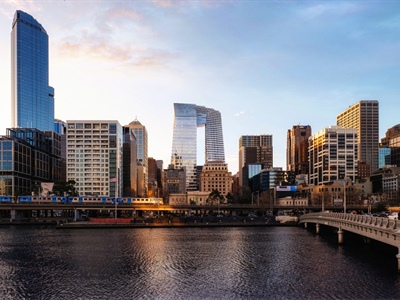 An online campaign has accused Victoria's planning regime of being "totalitarian" following the rejection of the latest design proposal for 447 Collins St. in Melbourne.
Supporters of the proposed "pants building" in the Melbourne CBD area have launched an online campaign to save the project following its rejection by the Victorian planning authorities.
The latest design for 447 Collins Street by Woods Bagot and Shop Architects would involve the construction of a pair of high-rise towers linked together by a skybridge at a height of 47 storeys.
The while backers believe the $1 billion building would be an iconic addition to the Melbourne skyline, it's been compared some architectural wags to a pair of pants with a crotch, as have similar projects involving twin towers connected by sky bridges such Beijing's CCTV Headquarters.
While Melbourne City Council, the nominal authority for the site, has given its public approbation to the Woods Bagot and Shop design, the state government has become involved due to its imposition of interim controls on height levels in the CBD, and opted to reject the proposal due to the shadow it would cast upon the Yarra River's southern shore.
This is not the first time a proposal for the site has been rebuffed, with the original design for an individual 295 metre high-rise tower suffering rejection back in 2014.
In this case, however, supporters of the latest design have launched an online campaign, starting with a petition to Save Melbourne's future international icon and tens of thousands of construction jobs.
The petition warns state government of the dire economic consequences that could arise from the imposition of "totalitarian" measures, and complains of the discretion allocated to a single minister.
"Victoria's planning minister has introduced a 24 story height limit for the CBD, so proposal[s] above 24 stories are now considered a state planning amendment, rather than typical town planning development approval, and he alone gets to decide the fate of such projects."
"We only need look to Sydney to see when one person introduces totalitarian regime, financially impacting thousands, forcing many families out of business, spoiling nightlife for everyone and dulling Sydney's international reputation."
Campaign organisers hope to raise 1000 signatures in opposition to the project's rejection, and called for supporters to share the petition via social media.