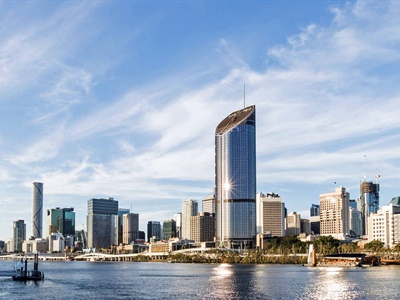 Brisbane Open House has announced its largest-ever program for 2017.
In addition to 70 buildings that have previously been featured, this year will see 29 new buildings throwing open their doors as part of the Open House weekend program.
Like in previous years, the featured buildings represent a broad cross-section of housing typologies. Everything from heritage homes to contemporary commercial architecture – from ice cream factories to fire stations – will be made open to the general public, some for the first time in their history.
A photography competition, speaker series, concerts and other special events will supplement the Open House weekend tour program.
Brisbane Open House 2017 will take place from 7 to 8 October. Below, we've compiled a list of our favourite buildings from this year's program.
A major catalyst project for the city's waterfront precinct, the new commercial office tower at 1 William Street is jointly owned by Cbus Property and ISPT. The imposing building was designed by Woods Bagot to accommodate the Queensland Public Service. Positioned on the banks of the winding Brisbane River, the architectural form of the tower invites an abstraction of the continuous, sinuous line of the river. A lustrous, glazed facade, the tower's cladding reflects and changes with the time of day and quality of sunlight, adjusting to seasonal and climatic variations. Connectivity was achieved via a fullheight atrium enabling a non-hierarchical, inclusive workspace with a mix of individual and team-based settings. Drawing inspiration from the Queensland landscape, the scheme seeks to emulate the natural environment, with the application of colour, materiality and texture bringing the outside in. Building on a neutral palette, each level of the building takes cues from the state's icons and native flora and fauna.
10am to 3pm, Sunday 8 October. 1 William Street, Brisbane.