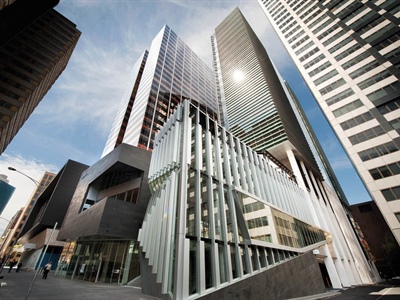 Cbus Property has scrapped a planned hotel at its major commercial development at the western end of Melbourne's central business district and will replace it with office space.
It was announced yesterday that the Victorian government had approved an amendment to the original permit for the 550 Bourke Street tower, removing the hotel component.
The tower is the second of two under construction by Cbus Property, the property arm of the construction industry superannuation fund, at the corner of Bourke and William streets.
It had been planned to include a 41/2-star hotel, but Cbus Property chief executive Kevin Fitzpatrick said the accommodation market was now too competitive.
Crown Casino announced last week that it planned to build a new hotel at its site in Southbank and a major hotel is planned nearby as part of the Melbourne Convention Centre development.
Mr Fitzpatrick said those developments and plans for precincts such as Docklands played a part in the decision.
Cbus owns the Lindrum Hotel outright and a half share in the Westin Hotel, both in Melbourne. The 550 Bourke Street tower will now offer about 25,500 square metres and Mr Fitzpatrick said he believed the timing of its delivery to the market would coincide with demand for office space.
"It is also one of only a few new office buildings in Melbourne with planning approval in place, which will enable us to swiftly respond to client demand for commercial space in the CBD," he said.
Some of the other major projects shopping for tenants are Australand's second tower at Freshwater Place, APN Property Group's 565 Collins Street, Multiplex's 111 Bourke Street and Grocon's freshly announced 110,000 sq m project at the former Carlton United Beverages site in Victoria.
Cbus will be banking on beating them to the punch to secure tenants who need to move towards the end of 2008, when supply is going to be tighter.
Like the 45,000 sq m neighbouring 181 William Street tower, Mr Fitzpatrick said the second building would be designed to achieve a five-star Green Star and 4 ½ -star Australian Building Greenhouse Rating.
Environmentally sustainable features will include an energy-efficient facade, destination lifts, a small car park, and blackwater treatment plant. The two towers share ground and mezzanine levels that will include about 4500 sq m of cafe and retail outlets.
Already the combined precommitted leasing of 181 William Street is equivalent to about 75 per cent of the building's net lettable area.
Insurer CGU, part of the Insurance Australia Group, and Blake Dawson Waldron are the major tenants secured so far.
The chairwoman of the Hotel, Motel and Accommodation Association of Victoria, Carol Douglas, said commitments at Crown and the convention centre showed there was confidence about growth in the Melbourne hotel market.
"There is obviously still some major investment going on . . . maybe this is just a commercial decision purely based on return. My understanding is that the office rental market is in need of stock, so it might be down to cycles," she said.
"I'm a little surprised, but I'm also aware that it is very expensive to build hotels and your return can be not always favourable compared to other investments."
Ms Douglas said that although there had not been many new hotels built in recent years, new rooms had been added through serviced apartments.