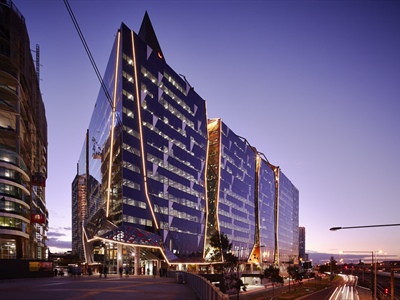 Hong Kong's Central district has topped the list as the most expensive office market in the world, outpacing the equivalent districts in the US, Europe and Australia.
According to the latest CBRE report, Sydney, in 13th place, was Australia's highest priced market followed by Perth (21), Brisbane (29), Melbourne (49), Adelaide (71) and Canberra (93).
Perth also made it into the top 20 cities with the biggest increase in occupancy costs, at No. 16.
The figures come as the outlook for office leasing is mixed. The average rent in Sydney for premium space remains at above the $1000-per-square-metre mark, while Melbourne is slightly lower because of new supply this year.
National Australia Bank's 700 Bourke Street was developed, and is managed and owned, by Cbus Property. It was designed by Woods Bagot and built by Brookfield Multiplex, and forms the new gateway to Melbourne Docklands next to Southern Cross Station and Etihad Stadium.
The A Grade 63,000-square-metre commercial building, which has achieved a six-star Green Star rating, spans 16 levels and will be home to 6000 NAB employees. The building features an all-access area for members of the community, with cafes, retail outlets and a digitised NAB retail store.
According to the head of research for Australia at CBRE, Stephen McNabb, Sydney's top ranking in the Australian region was consistent with the report's overall findings that the most expensive office markets were those that attracted the regional headquarters of large multinational firms, particularly those in the financial services industry.
He said Sydney had the highest exposure to this market sector.
Mr McNabb said there had been a "value shift" to Perth, as shown by the city's high ranking on the list of cities with the highest growth in occupancy costs.
"The increase in the terms of trade driven by high commodity prices has boosted income in the WA market relative to other Australian states," he said. "This has supported capacity to pay higher rents in Perth."
For Hong Kong, its Central district's position as the most expensive office market continues to be bolstered by its status as a global financial centre.
"Although financial institutions have become more cost sensitive, with some considering moving to less expensive space outside the CBD, high-quality and premium space is still sought after, especially by mainland Chinese firms, which are increasingly setting up their offices in Hong Kong [Central] in prestigious buildings," the report says.
North America was again led by New York's Midtown, which posted a prime office occupancy cost of $US120.65 a square foot, a 5.6 per cent year-over-year increase.
The New York Midtown market jumped to 10th globally, reflecting demand for premium space.