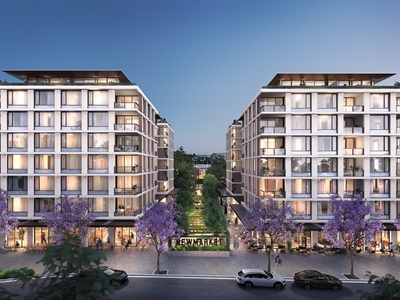 The home of former famous racing inhabitants, such as Bernboroguh and Black Caviar, is now ready to welcome an entirely different type of resident, with Cbus Property set to release the first apartments in its Newmarket Randwick master-planned development.
Cbus Property acquired the site in 2015 for a reported price of $250 million. It will breathe new life into the historic Inglis stable site – with the intention of transforming it into a thriving, urban hub that marries heritage with modernity.
Cbus Property brought in four architecture firms to design the master planned site. Bates Smart, Neeson Murcutt Architects, Smart Design Studio and SJB will ensure each stage of the development has its own personality and character.
Important emphasis is also being placed on landscaping, with the development to feature 5000 square metres of dedicated open space. The project is being handled by Arcadia Landscape Architecture and along with their newly-designed gardens, the iconic fig tree that has stood sentinel over the sale yards for more than a century will also be retained.
"We know how important this site is to the local community and thoroughbred racing fraternity so we were determined to design something special that is worthy of a site with such a strong history," Cbus Property chief executive Adrian Pozzo said.
"Newmarket Randwick will be an incredible place to live within a short distance to the Prince of Wales Hospital, the University of New South Wales and a plethora of high-quality schools, Eastern Suburbs beaches and the light rail, so we needed to ensure a high-calibre design and master plan that will pay tribute to the past while providing a unique residential village and retail precinct."
Stage 1, known as Newmarket Residences, includes 128 apartments across two buildings eight storeys in height, set amongst a retail plaza that provides direct connection from Barker Street to a new 5000 square metre public park. Prices for one-bedroom apartments start from $780,000, two-bedroom apartments are priced from $1,200,000 and three-bedroom apartments start from $2,200,000.
Designed by Bates Smart, the Newmarket Residences takes inspiration from the heritage Newmarket House and the grand old stable buildings on the site.
"The design is open, generous and elegant," Bates Smart studio director Matthew Allen said.
"The façade concept is an expressed frame with open corners that uses a mix of sandstone toned precast concrete and dark bronze metalwork in direct tribute to Newmarket House which will remain a part of this unique precinct."
Colliers International managing director of residential Peter Chittenden said the Newmarket Residences will create a new urbanity in Randwick that offers unprecedented housing choice in one of the Sydney's most unique sites that is steeped in history.
"We know that anyone setting foot on this site will fall in love with it.
"What's planned at Newmarket Randwick will take this site to a whole new level, with high-quality residences and an activated public retail plaza that will be the new place to meet in the Eastern Suburbs."
"We expect the Newmarket Residences to be popular with a range of owner-occupiers, particularly young professionals looking for the Eastern Suburbs lifestyle but also people who have lived in Randwick for many years who are looking for a more low-maintenance lifestyle.
The overall Newmarket Randwick precinct will include 642 apartments and terraces, to be developed in three stages.
Cbus Property will include terraced lawn seating, a children's play space, large open green space, a community barbecue and seating area with a series of outdoor garden rooms as part of the public park. It is also envisioned the existing Sales Ring structure will be retained and transformed into a large children's playground in another nod to the important history of the site.