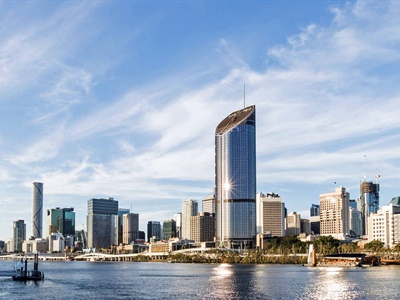 FURTHER signs are emerging that the Duke of Westminster is cashing up in Australia, with his global property company Grosvenor selling its $200 million half-stake in its Brisbane office tower at 400 George Street.
But the British-based group has hosed down claims that attempts to tip real estate into a fund have been unsuccessful.
A sale of the building will be the latest for Brisbane, where the GPT Group is understood to have signed a $600m agreement to buy Grocon's office tower project at 480 Queen Street, subject to leasing precommitments.
Jones Lang LaSalle, the agents appointed to sell the property at 400 George Street in an off-market campaign, would not comment on the deal.
However, it is understood that the entire building, which was recently developed by Grosvenor and Leighton Properties, could be sold, with the joint owner of the property, HSBC Trinkhaus, also considering offloading its share.
Yesterday, Grosvenor fund manager Brett Dillon denied the anticipated $700m the group had hoped to raise for its funds management business had been unsuccessful, saying that while 400 George Street was intended to be the anchor property for a fund that would initially raise $400m, it was never a good fit because the company only had a 50 per cent ownership stake.
He added that now was a good time to sell the property.
He also denied that Grosvenor was retreating from Australia, saying the group was still looking to buy properties locally.
Grosvenor also owns an office tower at 259 Queen Street, which would soon become 50 per cent vacant when the Bank of Queensland relocates from the premises.
That property was also to be tipped into an Australian office fund, along with its Eclipse Tower office development at 60 Station Street, Parramatta, in Sydney's west, that it jointly developed with Leighton Properties.
Last week, The Australian revealed that Queensland Investment Corporation's real estate arm is expected to purchase half of the state government's $2 billion property portfolio through a newly launched fund, as a number of consortiums are understood to have been shortlisted to embark on the Queensland government's 1 William Street office development, including Leighton Holdings partnering with the GPT Group, Brookfield with Cbus Property and Lend Lease with another party.
Grocon was also believed to be in the running.
Grosvenor, wholly owned by the sixth Duke of Westminster, has operations in Europe, the Americas, Asia and the Pacific.
In April, Grosvenor announced globally that its pre-tax profit had fallen to pound stg. 315m ($483m) for last year from pound stg. 398.4m in the previous year. Profit for its Asia-Pacific operations gained 67 per cent to $HK154.8m ($19.1m), with assets under management now $HK7.6bn.
Last year, the British-based property manager said it would scale back its direct ownership of Australian property and run the local operations through Tokyo, led by Grosvenor Fund Management director Asia-Pacific Morgan Laughlin.