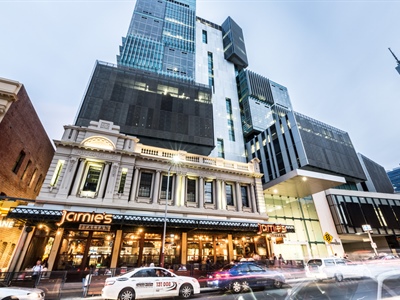 Perth's central business district will soon become home to another restaurant and bar precinct after a $15 million redevelopment at the one40william site was approved last week.
Up to eight new tenants will move into Cbus Property's expanded centre on William Street, which already houses 10 retail stores and the Aviary bar.
The much-anticipated Jamie's Italian restaurant will be the first tenant in the redevelopment and leasing agent Jim Tsagalis, of Lease Equity, said there had been a lot of interest in the other sites.
The project follows hot on the heels of the successful Brookfield Place on St Georges Terrace which has played a pivotal role in the revival of the CBD.
Construction is due to begin in February and finish by the end of next year.
Mr Tsagalis said 140 would be looking to complement, rather than emulate, Brookfield Place.
"This will be urban, a little bit gritty, a bit of Beaufort Street or Leederville in the city with operators capable of handling large numbers of people," he said.
"We are very close to signing off on some substantial food and beverage operators."
He said the surge in new bars and restaurant across Perth meant the city had well and truly shed its "Dullsville" tag.
"Perth has moved 15 years in two years, some of the stuff we've got here would easily be able to compete with New York, Melbourne and Sydney, obviously not by quantity but by quality," he said.
The City of Perth approved Cbus Property's development application last week.
Construction is due to begin in February and finish by the end of next year.
Perth Lord Mayor Lisa Scaffidi said 140 would be a welcome addition to the expanding food and beverage choices on offer in the city.
"The changing skyline of Perth has meant an increasing number of people coming into the city to live and work, so the plans will give visitors a more diverse option, which we see as a huge positive," she said.
Kristi Dempster, retail manager at 140, said the project would be complemented by an arts program and would appeal to a youthful crowd.
"We see our approach as a real breakthrough for Perth – 140 will become a destination in its own right," she said.