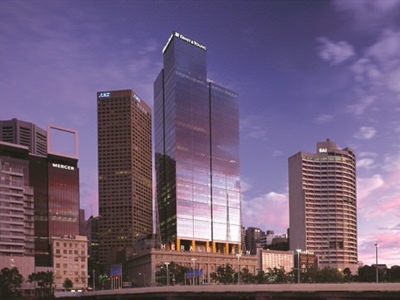 GPT's blue-chip unlisted office fund is acquiring a 50 per cent stake in the $320 million Ernst & Young tower in Melbourne from its owner, Cbus Property.
The landmark tower rises from the historic five-storey Herald & Weekly Times building, which Cbus finished redeveloping in 2005.
The 45,000 square metre building stands at the prized east end of the CBD just two blocks from the new $200 million Westpac offices at 150 Collins Street in which GPT Wholesale Office Fund is investing.
Brokered by Sydney-based Savills agent Ian Hetherington, contracts were exchanged over the weekend on the closely guarded deal.
It is Melbourne's second blockbuster deal in a week. Investa Office Fund and its unlisted sister Investa Commercial Property Fund have confirmed they will acquire Leighton's $460 million development at 567 Collins Street.
The 50 per cent stake in 8 Exhibition Street was struck at $160.05 million on a firm 6.5 per cent cap rate.
Fund manager Martin Ritchie was pleased to secure an east end asset, taking his portfolio to 15 buildings with a total value of $3.8 billion.
"The purchase will be funded through existing facilities and follows a successful $275 million capital raising at the end of last year," he said.
Cbus Property is better known for developing and holding assets rather than recycling them. But chief executive Adrian Pozzo said he was happy to close a good deal where he could.
"The 50 per cent sale of 8 Exhibition Street is a result of Cbus Property's ongoing focus on enhancing the performance of not only the company but also the fund by providing superior returns to members," he said.
Cbus is also developing a $240 million new police complex on Spencer Street, with global funds giant Invesco emerging as the leading bidder to take a half stake in the project.
Tenants in the fully leased A-grade office building at 8 Exhibition Street, including Ernst & Young, UBS and AECOM, have views over the Domain, Botanical Gardens, South Bank and out to Port Phillip Bay.
Savills' Mr Hetherington said the deal foreshadowed a strong year, with local funds competing on assets with offshore buyers. "It just shows the demand that's there and the health of the market," he said.
The other half of the Ernst & Young tower is subject to a call option held by Commonwealth Property Office, expiring at the end of June. CPA acquired the option to acquire the stake at market rate, in a deal struck with Cbus on 5 Martin Place, Sydney.