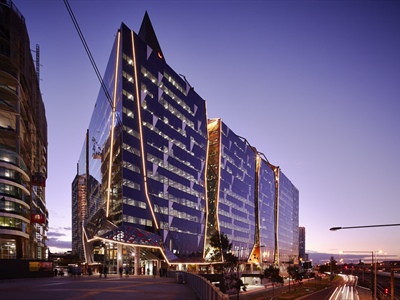 National Australia Bank has signed a landmark lease agreement with its landlord, GPT Wholesale Office Fund, at its Docklands headquarters.
In one of the largest lease agreements struck for 2012, the whole-of-building deal gives the bank an 11-year extension, from 2016 to 2027, on almost 60,000 square metres at 800-808 Bourke Street.
The original deal brought NAB into the distinctive campus-style Docklands building in 2004, as one of the first major commercial players in the precinct. The deal, worth as much as $27 million in its first year, is equally significant. It makes NAB one of the first major corporations in the new precinct to renew its lease.
The rent struck in the original arrangement was figured at a percentage rate of the building cost and worked out at about $300 a square metre.
The new deal establishes a market rent review in 2016 on a net effective basis.
The cap-and-collar style arrangement means the rent will not be higher than $450 a square metre and not lower than $400 a square metre at that review.
The building, now valued at $370 million – with its brightly patterned exterior and broad floor plates – was initially held on GPT's balance sheet before becoming a seed asset in the unlisted office fund.
The blue-chip fund had ownership interests in 14 office assets with a value of $3.66 billion in major Australian markets.
The deal with NAB is an immediate boon for the fund, helping to take its weighted average lease expiry (WALE) from 5.5 years to 7.4 years.
In the industry, the WALE metric is a key measure in assessing the worth of a property portfolio.
Fund manager Martin Ritchie, who struck the original deal for GPT with NAB, said the new agreement was "an excellent example of our leasing strategy, where we pro­actively look to lease significant expiries ahead of time and manage the risk of the portfolio".
"GPT has maintained a good relationship with NAB since first entering into the Docklands partnership in 2001," he said.
"This lease achieves great outcomes, with long security of tenure at a fair rent for NAB and lower risk and enhanced building valuation for GWOF."
NAB property general manager Trevor Moore said the decision to extend the tenancy was part of NAB's wider commitment to Bourke Street and the Docklands.
At 700 Bourke Street, NAB has committed as anchor tenant in a 61,000 a square metre Cbus Property project. The lease deal was handled directly between GPT and NAB by GPT's national leasing director, Luke Briscoe.