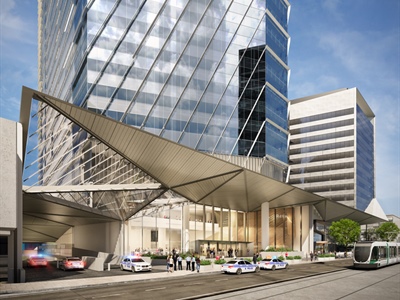 New leasing deals signed by the state and federal governments have underpinned a surge in office deals in Melbourne's CBD in the past year.
Preliminary figures, released by Savills Australia, show more than double the amount of office space was leased in the 12 months to March, totalling 569,810 square metres.
Savills associate director of research Monica Mondkar said: "This is up 128 per cent on the 250,000 leased in the year prior and also up on the five-year average of 269,943 square metres, which are quite remarkable figures in anybody's language."
The government and community sector accounting for 38 per cent of the total, she said, with the state government leasing more than its federal counterpart.
Key deals include the 65,000 sq m mega-police centre at 311 Spencer Street committed to by Victoria Police, the Australian Federal Police and the Australian Crime Commission; and 70,000 sq m of building renewals at 50 Lonsdale Street and 700 Collins Street.
Savills director of office leasing Phil Cullity said tenants who signed new leases last year had made good deals just as market rents started to rise.
"There wasn't much space available during the global financial crisis and we didn't see the after effects for a long time. Tenants just renewed their leases. But they've taken the opportunity at the right time – they got pretty good deals on rents and incentives last year," Mr Cullity said.
The state government has been pro-active in taking advantage of market conditions and was competing with the private sector for staff and attractive buildings, he said.
The government and community sector leased 224,906 sq m, 83 per cent of which was prime space and 81,000 sq m of it was pre-commitments for new buildings. Education and training tenants took up 23 per cent of this sector.
Property and business services took up 28 per cent of the total 569,810 sq m, with IT and communications leasing 15 per cent and finance and insurance accounting for 13 per cent.
Last year net absorption was 117,000 sq m, which smashed the 10-year average of 86,000 sq m, Mr Cullity said.
"All indications are that we are in for another 12 months like that. It's really no surprise that developers are pushing ahead with new buildings especially with economic rents being achieved," he said.
New developments include Cbus' twin-tower project at 447 Collins Street, which is more than 50 per cent pre-leased to top tier law firms; Mirvac's redeveloped 477 Collins and two new towers at Lang Walker's Collins Square and Lend Lease's Melbourne Quarter.
"There's new supply coming but tenants are looking for upgrades," he said.
Any backfill space left vacant by tenants moving into new buildings would become available in 2019-20, he said.
"It doesn't all come on at the same time. It's staggered and landlords take space out for refurbishment, too. The market is strong enough to take it in its stride."