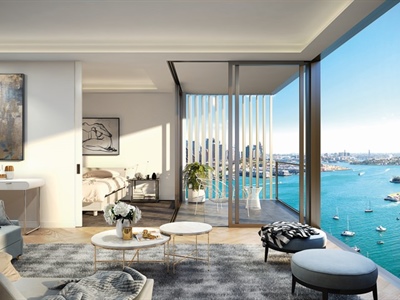 Five years after the launch of an aggressive strategy to enter the apartment sector, CBUS Property's residential division is expected to deliver more than half of the group's revenue.
In April the group – the property arm of industry superannuation fund CBUS – will launch its third standalone Sydney apartment development, a luxury conversion of the Vibe Hotel at Milsons Point into 123 apartments, with prices going as high as $26,470 a square metre.
Studios start at $715,000. A three-bedroom penthouse apartment over 170 square metres will start at $4.5 million.
The group has received 2500 sales inquiries for the harbourside development at 88 Alfred Street. Of the initial inquiries, 200 prospective buyers have already paid a registration fee of $10,000 to secure a time on the day of the launch to bid for apartments. More are expected to register in coming weeks.
"Hopefully buyers avoid Gold Fields [House] and they'll buy us instead," CBUS Property chief executive Adrian Pozzo said.
"There's a lot of supply coming on board in and around the area, but the buying activity we're seeing at the moment is just catch-up after years of nothing much happening at all," he said.
Encouraging
The sale campaign's early results are encouraging for the developer's still-young residential arm.
The group was predominantly known for its commercial property portfolio until 2010, when it partnered with AMP Capital and Galileo Group to develop The Residence apartment tower on Sydney's Hyde Park.
Five years on, Mr Pozzo expects residential projects will contribute more than 50 per cent of group revenue for fiscal 2015. Residential projects make up $2 billion of the group's $4.5 billion project pipeline, alongside landmark projects including a $1 billion mixed-use development at 447 Collins Street in Melbourne's central business district and an $800 million project at 1 William Street in Brisbane.
As it stands, the group's residential pipeline stands at about 2000 apartments, with a 15 per cent weighting toward Brisbane and the rest spread between Melbourne and Sydney.
The group has a war chest of nearly $1 billion to spread across commercial and residential developments, generated through sales including Melbourne's CBW office and retail complex and the new NAB building on Bourke Street.
The focus now is on acquiring more residential sites along the eastern seaboard, and particularly expanding the group's footprint in Brisbane.
"The opportunities are better dollar-wise," Mr Pozzo said of Brisbane's residential market.
Return targets
Hot development site prices in Sydney meant many sites no longer met the group's return targets, Mr Pozzo said. Competition was also particularly fierce, and off-market opportunities were drying up by the day.
Planning was another significant hurdle.
"By the time you buy a site in Sydney and go through the planning process, there's a cycle in that you might lose," he said. "You're always a bit wary of prices while you're going through planning … there's a chance you could wait about four years [for approval]."
But the group's Vibe hotel conversion has been relatively swift. The group took control of the site in August 2014 for about $80 million from property developer Greg Shand's Barana Group. Work is expected to be completed by mid-2016.
Another project in Epping will take longer. Formerly owned by Phillip Wolanski's Denwol Group, with capacity for 500 apartments, the Langston Place commercial site is occupied by Commonwealth Bank's back-office operations on a lease expiring in 2018.
In February CBUS doubled its investment, selling a commercial tower at 130 Elizabeth Street slated for apartments to Ecove for $120 million. The group paid $55 million for the site in 2013. The 38-storey tower had planning approval for about 150 apartments.
"That sale wasn't planned," Mr Pozzo said. "We had a knock on the door and it happened to be a very interesting number."