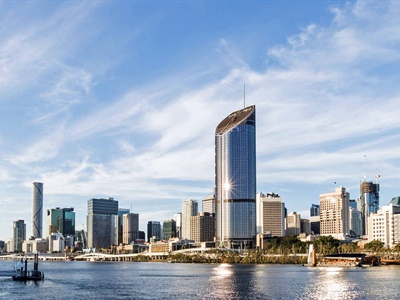 THE nation's largest private builder and developer, Grocon, is competing against a partnership comprising Cbus Property and Brookfield Multiplex to develop the Queensland government's $1 billion riverfront precinct – 1 William Street in Brisbane.
The deal is among a number of soon-to-be-finalised transactions in Brisbane, with major real estate players including Dexus Property Group, Investa, Cromwell and AMP among the bidders to buy a 50 per cent stake in the $400 million 400 George Street office tower.
Four bidders were earlier shortlisted for the government's 1 William Street development, including Lend Lease, a Leighton Holdings and GPT Group partnership, along with the CBus and Brookfield Multiplex consortium and Grocon.
The two final groups are bidding to develop a 35-level office tower comprising 60,000sq m on the Brisbane River.
A retail component would be included in the building's lower floors, as would entertainment facilities.
The government is expected to appoint a developer and builder by the end of the year.
Cbus Property and Grocon would not comment yesterday.
Last week, Daniel Grollo's Grocon announced it had secured mining giant BHP Billiton as the anchor tenant for a $650m development at 480 Queen Street, Brisbane.
Construction of the 36-storey office tower will begin early next year. BHP will take several floors comprising about 14,000sq m in the 55,000sq m building from June 2016.
It has been suggested that accounting firm KPMG may also take about 8000sq m in the tower or take the space that BHP vacates in Riparian Plaza, at 71 Eagle Street.
Riparian Plaza is the Brisbane base for KPMG and BHP.
The listed GPT Group has been suggested as a backer of the 480 Queen Street development. It has refused to comment on any involvement in the project.
Other groups that initially showed interest in the government's development at William Street included Charter Hall, Westfield, Mirvac Group, Echo Entertainment, Investa Property Group, Hansen Yuncken, Watpac, Hutchison Builders and Neilson Properties.
Public servants are currently based in various buildings around the central business district and the government is keen to consolidate them. The new building at 1 William Street would put them all in one place.
Several property groups have been courting the resource-driven Brisbane office market this year.
As the government considers proposals for the office tower, it is expected to finalise a deal by the end of February for Queensland Investment Corporation's real estate arm to purchase half the state government's $2bn property portfolio through a newly launched fund.
Meanwhile, the Duke of Westminster's global property company Grosvenor last month placed its half-share of its 34-storey Brisbane office building at 400 George Street on the market. The remaining stake is owned by HSBC Trinkhaus.