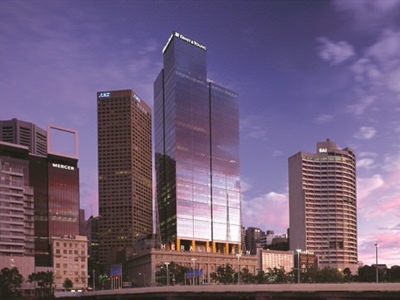 After announcing in its 2012 annual result that it had exceeded expectations with a net profit of $594.5 million, GPT has purchased a 50 percent interest in a Melbourne CBD office tower for its Wholesale Office Fund (GWOF).
GWOF paid $160.05 million on a cap rate of 6.5 percent for the 50 percent interest in the Ernst & Young tower at 8 Exhibition Street, at the eastern end of the CBD.
The vendor is United Super Investments (8 Exhibition Street) Pty Ltd, an organisation associated with Cbus Property. The 45,000 sqm tower includes the historic five-storey Herald & Weekly Times building, which Cbus finished redeveloping in 2005.
Ian Hetherington of Savills negotiated the deal.
Earlier in the week Investa Office Fund, in partnership with the Investa Commercial Property Fund, spent $462 million to buy Leighton's development at 567 Collins Street, Melbourne.
It is expected the deal on the 26-level, 55,000 sqm office tower will deliver a 6.7 percent cash-on-cash yield on its mid-2015 completion.
Leighton Contractors will lease 12,700 sqm in the building for its Victorian head office, joining law firm Corrs Chambers Westgarth, which signed a lease in late 2012 for 8800 sqm.
It is understood that with the tower almost 50 percent leased, there has been an income guarantee given over any vacant space until mid-2019.
The deal was brokered by CBRE's Rick Butler and Mark Coster, with Jones Lang LaSalle's James Kaufman and Simon Storry.