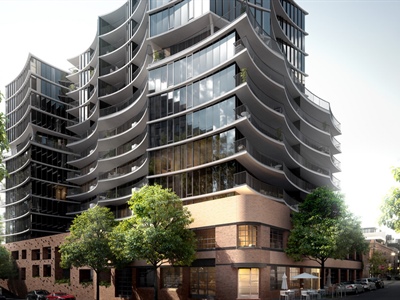 Not too long ago, Phillip Cole, a 60-something, semi-retired anaesthetist, and his wife Debra were ready for a sea change. They left the Melbourne suburb of Kew, moved down the Peninsula, and built a new house on a Sorrento backstreet. But five years later, they've found the allure of the big smoke too difficult to resist.
"We thought we'd be able to travel from Sorrento and go to the theatre and go to the opera, but it's just proven too far," Phillip says, noting that the one-and-a-half hour drive into town makes it tricky for the couple to still enjoy the city's cultural offerings and conveniences.
Moreover, with many of their family and friends living in Melbourne, the Coles found they were missing loved ones as well. They decided to look for a new home, but rather than return to the suburbs, this time they wanted to buy in the inner-city.
At the suggestion of a real estate agent, Phillip and Debra visited the display suite for Holme, a new Cbus Property development in Collingwood.
"We'd already seen and looked at a lot of apartments prior to that so it wasn't difficult to know it was the right one for us. We fell in love with it," says Phillip.
Having an interest in design, Phillip was impressed by Holme's striking exterior, which features a curved tower atop a preserved art deco façade.
"Most developments have a very flat façade. This one sort of sticks out all over the place, but it makes it interesting, that makes it exciting, that makes it vibrant," he says.
The retained art deco brick exterior, formerly home to The Monthly magazine, also attracted the couple.
"That was important; more important to Debra than to me, but certainly that's an appealing feature," Phillip says.
The building's location was just as crucial to the Coles as its aesthetics. Situated in the heart of Collingwood, just a stroll from Brunswick, Gertrude and Smith streets, it was ideally positioned for their preferences and lifestyle.
"It's close to family, it's close to friends," Phillip says. "It's quite an exciting area to be in and to live these days, and that's important to us".
Phillip cites the neighbourhoods many buzzing bars and restaurants as big drawcards for the couple, as well as its proximity to Melbourne's CBD and green spaces such as the Fitzroy Gardens.
"The busyness will be appealing, the multicultural atmosphere is appealing," he says. "We're physically active people in terms of exercise, and the Fitzroy Gardens aren't far away."
Once settled in their new home, the couple intend to use their car less and cycle, walk, and take public transport more. Their apartment, a three-bedroom penthouse on the 11th floor, will also be spacious enough for them to have their grandchildren to stay and entertain friends.
"It had to have a sense of space," Phillip says. "The master bedroom is quite large, the apartment has a balcony, and the fitting and fixtures as shown in the display were pleasing."
The couple's apartment also has generous north, west and south-facing views, meaning they can look across the city and almost to Port Phillip Bay.
Holme has 154 apartments, spread across 14 levels. It will also incorporate commercial and retail spaces, has a 160-space car park and 93 bicycle spaces. For residents, a 240-square metre communal area on the ninth floor is available for entertaining, and there's also an indoor lounge with a dining room, reading areas and an open fireplace.