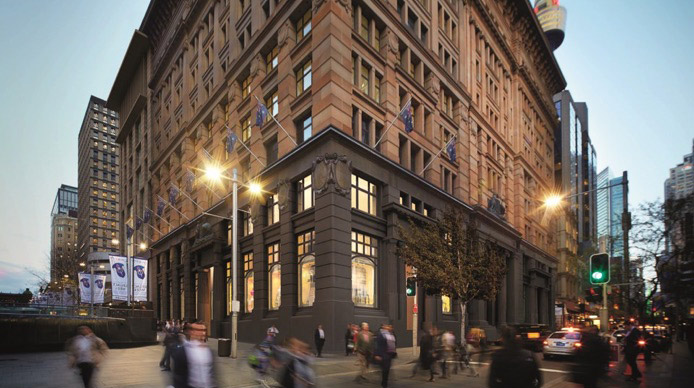 Technology company Dropbox has decided on Martin Place as the location for its new offices.
The deal is another boost to the famous Sydney boulevard that just several years ago experienced a mass exodus of its traditional financial services occupants to the CBD's fringe and new office developments.
Dropbox will take about 2000 square metres on levels 17 and 18 of the redeveloped tower at 5 Martin Place.
The former Commonwealth Bank chambers has become a hot location for both the traditional inhabitants of Martin Place, such as law firms, as well as the fast-growing IT sector.
The rapidly expanding Dropbox has been looking for a new home for some time. It looked closely at 20 Martin Place and 333 George Street nearby. The Australian Financial Review reported earlier this year that Dropbox Australia has seen its headcount multiply in its current 345 George Street office from five to 50 in less than a year.
Dropbox will join Ashurst, Challenger, Pimco and WeWork at the sensationally redeveloped 5 Martin Place building, which features a huge glass atrium through the centre. DEXUS Property Group confirmed the lease but declined to comment further. Lease terms were not disclosed.
Colliers International's Cameron Williams acted for the building owners and Dropbox was represented by James Shanks of GVA Franklin Shanks. Dropbox was contacted for comment.
The $450 million renovation of 5 Martin Place reached practical completion in June. The property is a blend of the old and new by incorporating the original – yet modified – 1916 building and the addition of a 19-level premium glass-grade office building.
The base of the building has also attracted new retail tenants including Swedish brand Collection of Style, Canadian luxury retailer Kit and Ace and luxury luggage retailer Rimowa.
The addition of Dropbox means the building is almost fully leased, which is demonstrative of Sydney's improving office leasing market.
In its quarterly review released on Wednesday, DEXUS said office demand remains very positive in the eastern states.
"Leasing activity is being driven by growth in the information technology, education, finance and professional service sectors, particularly among small firms," Peter Studley, DEXUS general manager, research said.