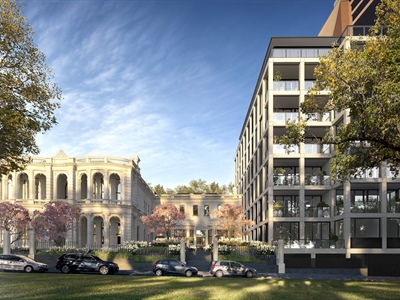 Brookfield and its joint-venture partner Cbus Property have sold out a $162 million upmarket residential project in East Melbourne as local downsizers amalgamated some of the apartments into larger units.
The project was originally slated for 99 apartments. That total fell to 64 after the 25 proposed one-bedroom apartments were combined to make up two and three-bedroom units.
The average price per apartment across the project was about $2.5 million. On a per-square-metre rate, that translates to about $17,500, according to industry sources.
Overlooking Fitzroy Gardens, the Classic East Melbourne project comprises three buildings on two sites, one on Clarendon Street and the other on Wellington Parade.
On Clarendon Street, the project involved the redevelopment of the historic Mosspennoch House. Overseen by heritage architect Lovell Chen, it was converted into six prestige apartments, all sold within a short time of release to the market.
Next door, a seven-level building was constructed. Around the corner on Wellington Parade a 14-level building was developed, where most of the apartment amalgamations occurred. Bates Smart designed the two new buildings.
Carl Schibrowski, Brookfield Property Partners' head of development, said the overall result was testament to the strength of the upper end of the downsizer, owner-occupier market.
"They want a lock-it-and-leave, low-maintenance lifestyle," he said.
One in five buyers was already a resident of the East Melbourne area who was looking to downsize from the suburb's terrace houses, with 94 per cent of buyers owner-occupiers.
"A lot of people were ready to sell out of an East Melbourne terrace and move into something for the next stage of their life," Mr Schibrowski said.
Between the sites is the Brookfield-owned Pullman on the Park, now operated by Accor, which took over management from Hilton. Brookfield gained control of the Hilton and the East Melbourne property five years ago through its $410 million takeover of Thakral Holdings.
Two years ago super fund developer Cbus Property, led by Adrian Pozzo, joined Brookfield in the residential development.
Mr Pozzo described the growing appeal of larger apartments as a lifestyle choice that was attracting both downsizers and some families.
The proximity to Fitzroy Gardens and the CBD was a drawcard for buyers with coastal properties looking for a stylish city pad, he said.
"When you think you can shut the door behind you and leave for a week or two and everything will be taken care of, it is a lifestyle choice."
For Cbus Property, the East Melbourne project is a further step into the prestige residential market.
On the other side of the Fitzroy Gardens, it has developed a ritzy apartment tower at 35 Spring Street and has similar plans for another site on Spring Street it bought in September, now occupied by a hotel.