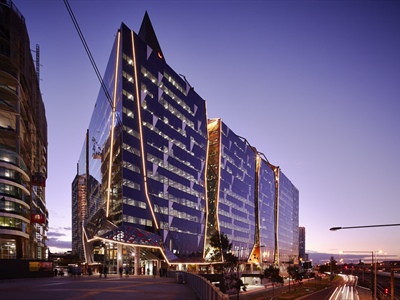 MELBOURNE'S DOCKLANDS is booming. The former industrial precinct, now officially included in the Melbourne CBD, has a record $2.2 billion of commercial and residential construction under way.
That construction drive has just pushed the precinct past the halfway point in its development trajectory. Around $9 billion in private investment has been pumped into new real estate so far.
Some 16 projects are now under way. When completed, those projects will deliver around 360,000 square metres of commercial space. Another 1500 new residential dwellings will have been added.
By the end of this year, the daily workforce in the Docklands area will grow to an estimated 31,500. And by around 2020, when the development of Docklands is complete, it will be home to 20,000 residents and 50,000 workers.
Although it is now included within the wider CBD figures, the vacancy rate in Docklands itself is about 0.8 per cent, according to Property Council of Australia figures. Prime sites along the extensions of Collins and Bourke streets are filling fast.
At Lang Walker's Collins Square project, a new building for the Australian Taxation Office is due to be completed this month, bringing another 2400 workers into the precinct.
Further along Collins Street, Lend Lease expects to finish a building for Aurecon and its 900 staff by October.
On Bourke Street nearby, super fund developer Cbus Property, is putting up a $300 million, 62,000 square metre campus-style project for National Australia Bank, next to Etihad Stadium.
The super fund developer has also taken over an adjoining site previously held by fellow industry developer ISPT. Medibank Private will take 30,000 square metres in the second, $200 million-plus asset planned for the site.
And then, further to the north, private developer Digital Harbour has just completed a new building for Melbourne Water. As many as another eight buildings may eventually fill out Digital Harbour.
Places Victoria chief executive Sam Sangster says the tight vacancy rate on the old CBD grid is pushing tenants into Docklands. The pull factor is the large campus-style floor plates that are possible on the waterside redevelopment zone.
New developments are pushing into the skyline around Sangster's Collins Street office. "The vast bulk is all post-GFC," he says. "It illustrates our ability to work with our private sector partners in each of the different precincts."
The state development agency has reworked development agreements and project master plans, in response to the changing market conditions.
As result, Docklands is now bustling with new projects. The number of prime sites is fast reducing.
Along Collins Street, the extension of Melbourne's premier corporate address into Docklands, there are three towers left in the Collins Square project, that will deliver another 100,000 square metres.
Further along, at Lend Lease's Victoria Harbour section, there is room for some more commercial towers, but not much.
Places Victoria is now finalising a preferred developer for the last unallocated section of Docklands, that runs from Collins Street across to Flinders Street. Lend Lease is expected to claim this role, which could deliver another 100,000 square metres of commercial space.
Mr Sangster agreed the pipeline in Docklands will diminish after the current crop of projects is completed.
That is as much the result of the dwindling supply of sites as due to a shrinking demand for space, says the Places Victoria chief. "We can deliver product in Docklands that can't be delivered in other parts of the CBD, given the complexity of reworking existing buildings to create the modern office place," he says.
"The reality is if you want office space in Docklands today, you need to be signing a development agreement because there is no vacant space."
Across the Melbourne CBD, prime net face rents are now around $452 per square metre, says the latest CBRE research. Incentives have risen to around 22 per cent. Vacancy rates are expected to rise moderately over the next two years, putting a brake on rental growth.