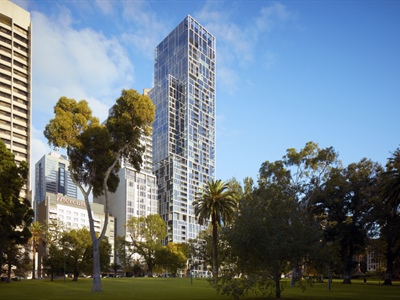 Restaurateur Ronnie Di Stasio, who is heralded with contributing to the city's cafe laneway culture when he co-established the popular Rosati's in 1985, is returning to the Melbourne CBD after a hiatus of more than two decades.
The hospitality veteran is paying Cbus Property an as-yet undisclosed sum for a 200-square-metre strata retail space – the only commercial area available within 35 Spring Street, a 43-level luxury apartment building which was opened in March.
By mid-next year, Mr Di Stasio plans to open an exclusive Italian eatery and bar at the address, after appointing architect Hassell and two street artists who both exhibited work at the recent Venice Biennale.
The Spring Street space is expected to trade alongside the popular Cafe Di Stasio at 31 Fitzroy Street, St Kilda, which the businessman has operated full-time for 30 years and since selling Rosati's (in 2013, Mr Di Stasio expanded, opening a bar next door to his St Kilda restaurant).
Since 1994, the businessman has also owned the Di Stasio Vineyard, a 32-hectare winery and gallery in the Yarra Valley.
The new Spring Street skyscraper is on the north-west corner of Flinders Lane and just over a block from Rosati's, which Mr Di Stasio co-opened with architect Piero Gesualdi (the latter has stayed in the hospitality game, too, opening a shop-cafe concept store, Mondopiero, at 28 Brunswick Street, Fitzroy, in 2016).
"We are delighted to welcome back Ronaldo Di Stasio and his team to the Melbourne CBD and in particular to 35 Spring Street. An iconic brand in an iconic building," Cbus Property's chief executive officer Adrian Pozzo told The Age.
Agency Fitzroys marketed the commercial component of 35 Spring Street for the builder.
In September, Cbus Property paid a subsidiary of the Abu Dhabi Investment Authority a reported price of more than $70 million for the low-rise Mercure hotel at 13-21 Spring Street, next door to the distinctive ex-Shell House headquarters, at the corner of Flinders Street, designed by Harry Seidler.
Cbus is expected to build a circa-34-level-plus luxury apartment building on its new Spring Street block in about five years.
Also in the CBD, the developer recently started the construction of a distinctive mixed-use office, hotel and apartment building to be known as Collins Arch at 447 Collins Street.