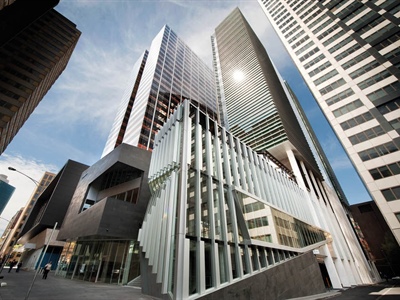 PROFESSIONAL services firm Deloitte will shift its state headquarters to a 19-level tower at 550 Bourke Street that Cbus Property is building. It is due for completion in October.
The move will leave a large hole in Deloitte's current building, QV, in Lonsdale Street, which is owned by private developer Grocon.
But with Melbourne's office vacancy rate at a record low, the space is expected to be easily filled.
According to the Property Council of Australia's latest Office Market Report, the rate has plummeted in the CBD to 4.4% in the six months to December, from 5.9%.
It will mark the second move in five years for Deloitte, which in recent years has almost doubled in size, from 787 to 1425 employees.
Deloitte only put up its shingle at QV in 2004. Sensis and BHP Billiton, other tenants in QV, are believed to have eyed Deloitte's space.
Deloitte's tower in Bourke Street is an A-grade building and designed to achieve a 5-star Green Star and 4.5-star Australian Building Greenhouse Rating.
Deloitte managing partner in Victoria John Trotter said the firm was unable to secure extra floors at QV and this made the move necessary.
"Deloitte has been very pleased with QV," Mr Trotter said. "However, our growth rate has forced us to move to a building that meets our current staffing needs and provides us with the flexibility to seek more space in the future under one roof."
He said many of Deloitte's employees were keen to move into an energy-efficient office, given their concerns about global warming.
Deloitte will initially occupy the top 12 floors, roughly 18,000 square metres in the tower.
It will also have the option to lease progressively a further four floors during its 11-year lease.
Deloitte will also have naming and sign rights for the building. The building will be linked to the other Cbus office tower in the CBW development, 181 William Street, by shops and cafes.