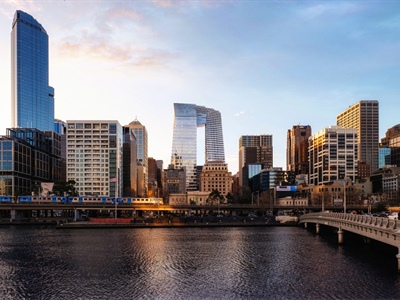 Cbus Property has won strong interest in the $250 million luxury hotel it is planning for its $1 billion Collins Arch development, with Japanese group Daisho emerging as a leading contender.
The project will house a 294-suite five-star hotel on the first 15 levels of its eastern tower, and the asset is being pursued by deep-pocketed international players that have set the pace in buying local hotels.
The hotel, to be completed in 2019 along with the remainder of the distinctively shaped mixed-use project on Melbourne's Collins Street, was marketed by Michael Simpson of Savills.
Daisho invests and develops globally and has holdings worth more than $US1.5bn. The company is best known in Australia as the owner of the ultra-luxury Park Hyatt Sydney hotel.
The Japanese billionaire behind Daisho, Katsumi Tada, bought the Sydney hotel for $201.6m in late 2007 and undertook a major renovation that finished in 2012. Daisho also developed the 180 Brisbane office tower last year, with the 32-storey 58,000sq m tower anchored by the Commonwealth Bank.
The hotel component of the Melbourne project has been keenly sought as it is part of a broader retail, office and apartment complex which will drive demand.
The property will have a substantial ballroom and state-of-the- art meeting facilities. It will also have a dining restaurant, cocktail bars, an executive lounge, indoor pool and gym.
Once an owner is locked down, an operator will be appointed. Industry players suggested the property could become a W Hotel, to be run by US giant Starwood Hotels & Resorts.
However, it is understood a deep pool of international operators are chasing the chance to run what will become one of the city's premier hotels.
The purchase parallels Chinese-backed Greaton's purchase of The Ribbon, a $730m hotel to be built by Grocon at Sydney's Darling Harbour.
That 402-room hotel and about 159-serviced apartment complex may also become a W Hotel, which would put the brand firmly on the map in Australia.
In Brisbane, construction of the W Brisbane has begun and the hotel is ­expected to open in 2018. It is also part of a $1bn mixed-use development and is a joint venture between Shayher Group and Pau Jar Group of Taiwan.
Hotel investor Jerry Schwartz laid the ground work for major forward-funding deals for Australian hotels in 2014. He paid about $360m for the soon-to-completed 590-room International Convention Centre Hotel in Sydney's Darling Harbour.
Dr Schwartz and finan­cier Harold Dakin last year sought to back the development of a W Hotel at Lend Lease's ­Victoria Harbour precinct in Melbourne's Docklands. But Lend Lease has since ­switched that project to an ­office block.