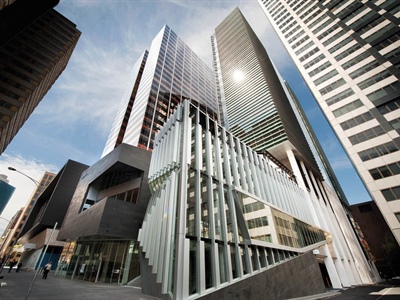 FINDING buyers for 16 freehold shops at Victoria's coastal Cumberland Lorne Resort has been plain sailing for Queensland property group Trinity.
All but one had sold ahead of an auction last Saturday after investors snapped up a combined $10.2 million of retail space.
The shops were for sale for the first time since David Marriner and construction industry superannuation fund Cbus developed the Cumberland resort almost 20 years ago.
They sold for between $300,000 and $1.65 million on yields of 5.5 to 6 per cent, in a strong show of confidence in the blue-chip property market.
The final property is under negotiation.
Landlocked Lorne has some of Australia's most expensive holiday real estate, with last available figures showing a median house price of $1.364 million in August last year.
The town has a permanent population of only 2500, which swells to more than 25,000 in peak holiday periods.
The sale of the shops, which front Lorne's main street, Mountjoy Parade, was brokered by John Castran, of John H. Castran Real Estate.
Properties included Westpac Bank and Gazman outlets.
Mr Castran said the success of the sale pointed to investors returning to blue chip commercial property in the current economic turmoil.
"What we are seeing is people hesitant to buy shares or park their money in the bank where they get no strong returns," Mr Castran said.
"They are using super funds to purchase quality commercial stock, especially in the $500,000 to $1 million bracket." Mr Castran said buyers were a mix of existing tenants and Melbourne investors.
He said demand had been fuelled by no further commercial subdivisions being developed in Lorne, which is above the beachfront Great Ocean Road.
"To have the majority sold prior to auction is an excellent result given current market sentiment, and shows there is still demand for blue chip properties in excellent locations, and at the right price," he said.
Trinity purchased the Cumberland Resort in late 2007 for about $55 million through then development subsidiary Consolidated Properties.
The first stage of a 102 freehold apartment selldown followed, with 51 apartments selling for $30million.
The remaining 51 apartments were put up for sale in December.
Mr Castran, who is jointly marketing the apartments with local agency Great Ocean Road Real Estate, said second-stage demand was down on the first release a year ago. "Buyers are aggressively bargaining, but the quality of inquiries had been very high," he said.
Trinity Development Group project leader Tim Douglas said the high-profile nature of the resort had been a major drawcard for both retail and apartment buyers.
"Cumberland Lorne Resort is the best known hotel in this part of the world and, as such, many of our buyers have been familiar with the product," he said.
Mr Douglas said buyers were also well aware of development restrictions protecting Lorne's beaches and national parks.
"These mean very few new commercial or residential projects, boosting demand for existing stock," he said.
Mr Douglas said stage one apartments had achieved sales rates of $7000 per square metre, which is on par with Melbourne apartment sales.
He said year-round occupancy rates between 60 and 70 per cent meant solid returns for investors.