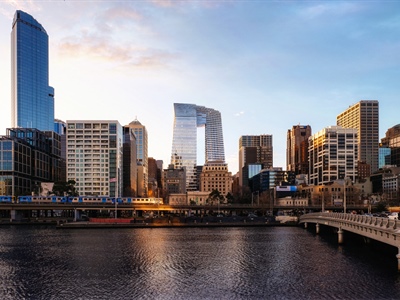 An "unsightly" Melbourne high rise that dropped part of its marble facade onto a city plaza is beyond repair and should be demolished, a Melbourne City Council report has found.
The owners of the former Suncorp office building on Collins Street have applied for a permit to destroy the 27-storey tower, which has sat empty since 2012 when a slab from the building smashed onto the forecourt below.
A council report to be tabled next week has called for the permit to be approved, despite the fact they have previously recommended the site for heritage protection. That advice was rejected by Planning Minister Matthew Guy last year, subject to further review.
The council's planning chairman, councillor Ken Ong, said he believed the local heritage significance of the building was outweighed by its current state. "It's like a war zone when you walk around it," he said. "It's not like the city we want."
The building was recently sold to developer Cbus Property after previous owners ISPT forked out at least $9.8 million for works on the troublesome facade, according to a submission. The council report said "experimental" techniques used in the building's construction meant all the marble panels had the potential to fall. The partial closure of nearby footpaths and roads were also inconveniencing the public and neighbouring properties.
An architecture competition will be used to choose the final design for the 433 Collins Street redevelopment, if the demolition is approved. The four shortlisted consortiums have already been chosen by the developer and include a winner in the Flinders Street Station competition, HASSELL, a design firm with offices in Melbourne.
But the destruction of the existing building will be opposed by the Melbourne Heritage Action group who believe the planning minister's personal "dislike for post-war architecture" may have sealed the building's fate.
In June 2013 the minister agreed to give 87 city buildings heritage overlay protection, but excluded all nine recommended buildings from the post-war period, including the Suncorp building.
The heritage group's president, Tristan Davies, said the former National Mutual Life Centre was a unique building because of its extensive plaza or forecourt.
"It was actually gilded in marble and gold trim. Obviously now it is in a terrible state, as a lot of old buildings are," he said.
"I'm sure there are plenty of ways to save the building and make it more economically viable and structurally sound."
Cr Ong said the council would be seeking an open space agreement to ensure the new development kept the large forecourt in front of the building.