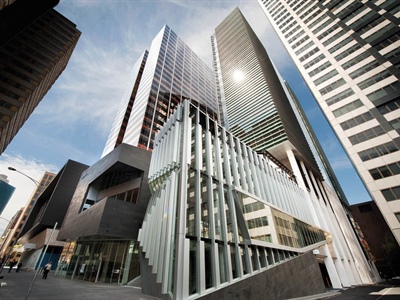 A GAGGLE of mainland Chinese development groups and investors are looking to capitalise on Sydney's hot apartment market.
Six parties are circling an office building at 227 Elizabeth Street being offloaded by Valad Property Group, which is owned by private equity giant Blackstone Group.
A combination of brisk apartment sales across the city and a desire to follow the lead of China's Greenland Group, which earlier this year snapped up the former Sydney Water Board site for a $600 million project, has driven interest.
The sale, being handled by Jones Lang LaSalle, has topped market expectations, with pricing on the building approaching $150m.
The real kicker has been the design of a luxury 114-apartment residential tower by PTW Architects that has shown the property's potential. Second-round bids are due this week.
Turning office buildings into apartments is proving a popular move in Sydney.
Superannuation fund-backed group Cbus Property picked up a 14-storey building at 130 Elizabeth Street that was part of the GE Real Estate portfolio for a project.
Meanwhile, private equity investor PAG is thought to have cast aside a $115m bid it received for 60 Carrington Street, which it secured as part of the GE sell-off.