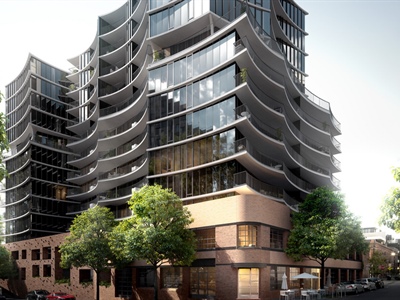 Paying tribute to Collingwood's industrial past, Cbus Property has revealed it will transform one of Collingwood's 1920s art deco buildings into a sanctuary for owner-occupiers seeking large format apartments on Melbourne's CBD fringe.
Following on from the recent success of its 35 Spring Street Melbourne and Classic East Melbourne projects, the national developer unveiled 'Holme', located at 68 Cambridge Street, Collingwood.
Holme will feature 154 one, two and three bedroom apartments across 14 levels on a 2,100 square metre island site, formerly home to The Monthly newspaper.
John Wardle Architects' (JWA) vision for the site was a boutique building that retains the art deco elements of The Monthly building with the addition of an elegant tower, marked by sculptured curvature and indents inspired by the vast grain silos that once dominated Collingwood's skyline.
The development will include spacious one bedroom apartments and two bedroom apartments as well as 30 three bedroom apartments averaging a generous 115 square metres, aiming to appeal to owner occupiers and set the project apart locally.
Cbus Property CEO Adrian Pozzo said research showed there was an under serviced market demanding aspirational, larger apartments in the Collingwood area.
"Collingwood has a strong reputation as a very hip and industrial-style suburb, but it has yet to provide options for those seeking apartments at the higher end of the design spectrum," he said.
"We see great potential in the affluent professional and downsizer markets craving impeccable apartments that offers generosity of space and high level of finishes.
"Holme aims to be a retreat for its residents, located on the doorstep to the city and among all the great food, culture and lifestyle amenity that Collingwood has to offer."
To illustrate this amenity, Cbus Property enlisted six local creative ambassadors who provided insight into their lives for the Holme brochure and will be involved in activating the large on-site display suite.
These ambassadors include creative director Lou Weis, chef Josh Murphy, florist Katie Marx, Meatsmith butcher Troy Wheeler and Gertrude St gallerists Diane Tanzer and Nicola Stein.
In designing homes for Collingwood's aspirational creative professionals and culture aficionados, JWA looked to the suburb's past in designing the site's new future.
The building's 1920s two level brick façade has been retained, including its original steel gate entry and is the base for the expressive exterior and elegant tower.
JWA founder John Wardle said Holme aimed to directly appeal to cultured homebuyers seeking easy access to the city, while also wanting to enjoy apartment living that places comfort, privacy and consummate, quality living experience high on the priority list.
"The remarkable island site bordered by tree-lined streets, allowed us to create an urban place very much part of its region but also detached from the hustle and bustle of its surroundings," Mr Wardle said.
"We looked directly to the suburb's dynamic culture, history and architecture for inspiration. The curved design referenced internally and externally alludes to Collingwood's old grain silos. The undulating indents of the building ensure a vivid light-play on the streetscape below, giving each apartment its own distinction.
"We've designed generous balconies featuring metal balustrades, which extend the building's play between elegant forms and robust materials, while a palette of stone, concrete and hardwood bring an elegance throughout each practical, comfortable and distinctive apartment space."
"The curved silo inspiration signifies the apartments' wider language from the outside right through to interiors, allowing an ease of flow for residents to comfortably make use of their space and enjoy life within their apartment and this wonderful part of Melbourne."
Four unique street frontages of the building each reveal different textures, leafy landscaping, tonality and grain, which take cues from the surrounding Collingwood backdrop.
Kitchens feature brushed stainless tapware complemented by reconstituted stone benchtops, scalloped woodwork and joinery; with white cabinetry ensuring a clean, contemporary feel.
JWA also gave the bathroom designs a level of discreet and ingenuous design flair has been utilised with tucked away recesses and sleek edges ensuring a seamless appearance.
"The curved, silo inspiration signifies the apartments' wider language from the outside right through to interiors, allowing an ease of flow for residents to comfortably make use of their space and enjoy an exemplary way of living," Mr Wardle said.
This philosophy is evident in the large indoor and outdoor communal facility on level nine that spans 240 square metres. Featuring expansive views, reading and dining tables, a cosy fireplace, as well as landscaping to the south, this amenity will be a place for residents to continue their exemplary level of comfort.
Around 400 square metres of retail spaces on Wellington Street will also add to the social atmosphere of the area, providing space for a café, commercial spaces and other local services.