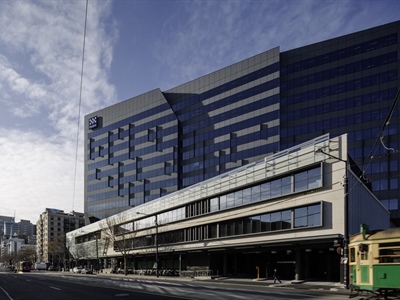 Super fund developer Cbus Property is moving to offer the market a half stake in its $250 million new Docklands police super complex in Melbourne.
The deal will be structured as a simple investment on completion, rather than the more complex "fund-through" arrangement some private developers favour to reduce risk and finance costs through the project cycle.
Cbus Property has a different objective and will look to include further opportunity for itself in any deal it closes on the police complex with a local or offshore investor, market sources said.
It is expected the property arm of the giant Cbus super fund will contemplate an asset swap with any local investor as one way of partially or fully settling the transaction.
An asset swap could give Cbus Property either another property or, even better, help it prise free a key development site from a landlord which is unwilling or unable to proceed in the existing market.
The end value of the 30,000 square metre building will be between $225 million to $250 million. A half stake could fetch as much as $125 million in cash or real estate through a swap.
Alternatively, were Cbus to find a foreign investor for the police complex it could then seek to foster a longer relationship, potentially partnering on further joint venture developments.
The Colliers International agency has been handling interest in the proposed deal but declined to comment.
The City West police complex is being built at 313 Spencer Street at the site of the 11,750 square metre former Australia Post Mail Centre site, on the corner with La Trobe St.
With a sub-division now under way, Cbus Property will control its portion of the site outright, with Australia Post retaining the other section, after the two entities initially created a joint venture project. The police will take a 20-year lease on the 12-storey building that will form one of the major gateways into the Docklands precinct.
The police complex will add to a record $2.2 billion of commercial and residential construction under way in Docklands, including Lang Walker's $1.5 billion Collins Square project.
Cbus itself has major projects in Docklands including a $350 million project at 700 Bourke Street for National Australia Bank and a $400 million tower next door at 720 Bourke Street.
The super developer is also itching to get a $450 million joint venture at 5 Martin Place in Sydney – the Money Box project – under way. Sources say the developer is keen to put its foot on further sites beyond its Melbourne stronghold.
So far Cbus Property, led by chief executive Adrian Pozzo, has delivered around $1.75 billion in completed projects into its parent fund's portfolio. It has another $1.5 billion of development, including 171 Collins St – the new headquarters for BHP Billiton – under way.
Opposite, at 150 Collins Street, APN Property and Grocon won a fund-through investment from GPT Wholesale Office Fund for their $200 million project at yield of 6.74 per cent.