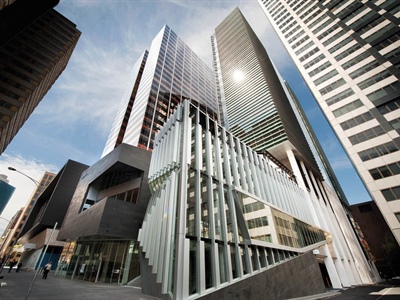 The property arm of construction industry superannuation fund CBUS has filed plans for a major residential project on Elizabeth Street in the Sydney CBD.
The development of high-end apartments will overlook Sydney's famed Hyde Park sitting alongside the Hyde apartments which were built in 2008.
The building will replace a 14-storey office building at 130 Elizabeth Street that CBUS Property purchased from GE Real Estate last year.
According to the plans, CBUS Property is seeking to build a single 35-storey tower reaching 110m above the existing ground level.
The project is expected to be similar to CBUS Property's nearby development, The Residence, which it developed in conjunction with AMP Capital and Neil Werrett-managed Galileo funds business.
The as-yet-unnamed development will boast 154 apartments, the majority of which will be three-bedroom and two-bedroom residences.
It will also include 242sq m of retail space on the ground floor.
Located on the corner of Liverpool, Elizabeth and Clarke streets, the project will also comprise six levels of underground parking with space for 90 vehicles.
The cost of the project is estimated by CBUS at $105 million, according to the planning documents. The development is expected to have an end value well in excess of $200m.
Cbus Property declined to comment on the plans.
Cbus Property is primarily known for its major office developments in Melbourne, which include BHP's headquarters on Collins Street, along with separate new offices for National Australia Bank, Medibank Private and Victoria Police in the Docklands.
It is also developing a hulking office tower at 1 William Street in Brisbane, which will house several Queensland government departments.
But it has also developed a slew of high-end apartment projects over the years, including Herald Living, Cromwell Grove and Warleigh Road apartment-townhouse developments in Melbourne and the Breakfast Point and Dominion residential developments in Sydney.
Last month it began work on its 35 Spring Street project overlooking the Treasury Gardens in the Melbourne CBD after a successful marketing campaign last year.
The 45-storey tower has an end value of $350m and will hold 270 apartments.
More recently CBUS Property purchased a prime development site at 447 Collins Street from Industry Superannuation Property.
According to speculation, a future development at the site might also include a tower of high-end apartments.