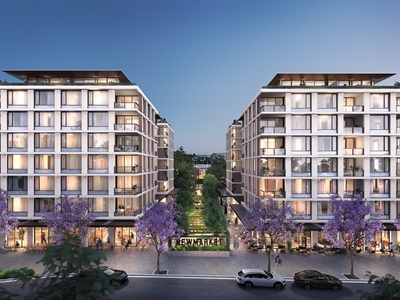 Randwick City Council's redevelopment of Newmarket's Big Stable will receive a minimum of 10 apartments for affordable housing thanks to deal struck with Cbus Property.
After successful negotiations with Randwick City Council, Cbus Property will dedicate the community facilities to the Council under a voluntary planning agreement.
The council's development will be on the the historically significant William Inglis & Sons land and be called 'Newmarket Randwick'. Cbus Property proposed the redevelopment include terraced lawn seating, a children's play space, large open green space, a community barbecue and seating area with a series of outdoor garden rooms as part of the public park.
These amenities would accompany the approximate 750 apartments that Cbus wishes to be develop on the 50,634 square metre site.
The initial plans also envisioned that the existing Sales Ring structure will be retained and transformed into a large children's playground.
Cbus Property Chief Executive Adrian Pozzo said the planning agreement was a great step forward for its Newmarket Randwick project and the wider community.
"Housing affordability is a significant issue in our society and we know how crucial it is for housing to be accessible for all so it was important for us to include these affordable housing apartments as part of this voluntary planning agreement," he said.
"Newmarket Randwick will be an incredible place to live within a short distance to the Prince of Wales Hospital and the University of New South Wales."
The final affordable housing allocation will be an agreed proportion of the total number of apartments approved for Newmarket Randwick, with Cbus Property committing to providing a minimum of 10 affordable housing apartments under the voluntary planning agreement.
"We have worked closely with Council during the thorough planning and assessment process for our Stage 1 Masterplan DA to arrive at a development proposal that will create a new sustainable and sensitive redevelopment of this iconic property whilst retaining and celebrating its remarkable heritage," Mr Pozzo said.
"We will also construct a public park where local residents can bring their children to play under the beautiful fig trees that are a hallmark of the site."
Newmarket Randwick will take advantage of easy access to the South East Light Rail, the Prince of Wales Hospital, the University of New South Wales and local beaches, as well as the local retail centre along Barker Street, private open space and a public barbecue area.
Cbus Property worked with architectural firms Bates Smart, SJB, Smart Design Studio and Neeson Murcutt Architects, as well as Arcadia Landscape Architecture, to design a high-quality development.
Newmarket Randwick will be developed in three stages, with completion expected in early 2021.
Cbus Property is working on detailed DAs for the various stages of Newmarket Randwick which are expected to be lodged with Randwick City Council in the coming months.