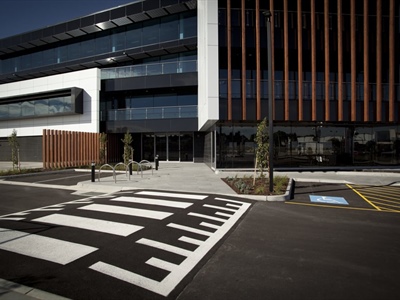 Super fund developer Cbus Property has reaped $39.25 million from the sale of a large chunk of the Estate One industrial park in Dandenong South.
Western Australian-based fund manager Warrington Property Group snapped up the three sheds in an off-market deal reflecting a 7.7 per cent yield.
Warehouses at the Estate One industrial park in Dandenong South have been bought by fund manager Warrington Property Group.
The three buildings – totalling 27,919 square metres on an eight-hectare site – are leased to GPI, CEVA and Australia Meat Holdings.
Savills agents Chris Jones and Ben Hegerty negotiated the transaction.
"There has been a huge increase in demand for industrial property over the past 24 months and a cap rate compression of nearly 200 basis points," Mr Hegerty said.
Warrington Property Group, which owns a large syndication business in Perth, was looking to expand across the eastern seaboard, Mr Hegerty said.
Just before Christmas, Cbus sold a shopping complex at the business park, Harvest Retail, to the Rifici Group for $54.3 million on a 7.2 per cent yield.
That off-market deal, handled by CBRE agents Mark Wizel and Justin Dowers, included Woolworths' first Masters building. Charter Hall is understood to be in the process of buying the 13,000-square-metre Masters building for about $27 million.
Cbus has a $4.5 billion development pipeline dominated by office towers and apartment projects.
It bought Estate One – a former General Motors Holden factory – when the property market was at its peak on the eve of the global financial crisis, paying $136.5 million.
Phileo had bought the 81-125 Princes Highway site in 1997 for $22.5 million and had already started developing the 46-hectare project.
It was Cbus' first foray into the business park sector and the project proved a hard slog, given the size of its competitors and the subsequent collapse in the market.
"You need scale and we didn't have it," Cbus chief executive Adrian Pozzo said. "You can't compete with the Goodmans and the Dexus of this world who have huge portfolio."
However, Cbus is ploughing on. It retains control over the 30-hectare balance at Estate One, which includes two hectares of developable land behind the recently sold industrial property and three hectares of office space adjoining the retail component.
The Country Fire Authority has opened its 4500-square-metre southern metro headquarters on the site.
Mr Pozzo said Cbus still had another six lots between 3000 square metres and 10,000 square metres available.
The industrial sector has started to get hot again with yields tightening towards the levels last seen before the global financial crisis.
Last week, logistics giant Toll Holdings sold a warehouse in Altona North in a $29 million sale and leaseback deal reflecting 7.5 per cent to Stockland.
Toll's property at 72-76 Cherry Lane includes a 20,500-square-metre warehouse and 4.5 hectares of hardstand area.
The proximity to major freeway networks in both the west and the south-east is part of the attraction for tenants.