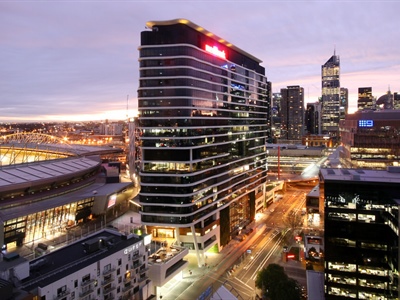 CONTRACTS: Brookfield Multiplex has been selected to build a $220 million campus-style development for Cbus Property in Melbourne's Docklands.
"We are very pleased to be invited to continue our long-standing relationship with Cbus Property," said Brookfield Multiplex Victoria managing director Graham Milford-Cottam. "We are currently constructing other exceptional buildings in Melbourne for Cbus, including 171 Collins Street and 700 Bourke Street, which is immediately adjacent to this new project."
The 16-level development at 720 Bourke Street, alongside Etihad Stadium, will become the head office of Medibank Private.
The private health insurer is slated to take all of the 30,000sq m of office space available.
The rapidly expanding private insurer is also expected to add to its 1300-strong workforce.
Designed by Hassell Architects, the development aims for a six-star green office rating and five-star commercial building rating.
It is expected to be completed mid-way through 2014. Located next to Cbus Property's $300m campus-style development for National Australia Bank's new 62,000sq m Docklands office, Medibank's offices will include retail space and food areas.
Medibank is currently leasing 700 Collins Street in the Docklands. Managing director George Savvides caused a stir last year when he said the company was considering leaving the area because it lacked charisma. To appease Medibank's concerns, Cbus Property has incorporated a park in front of the development.
Along with a central atrium, the office exterior will also include greenery, with extensive planting covering large components of the facade through a series of vertical planters, planted terraces and green walls.
It is hoped the final effect will create a park-like atmosphere traditionally seen in residential developments.
Cbus Property acquired the rights to the site from the Industry Superannuation Property Trust in late 2010. The site at the southern end of the Bourke Junction triangle was originally slated to hold a 250-room hotel.
Along with its campus-style development for National Australia Bank, Cbus Property is also developing the head office for BHP Billiton.
That building is understood to still have 40 per cent of its space available.
Cbus Property recently put a half-stake in another Docklands development on the market — its new $250m police complex on Spencer Street.