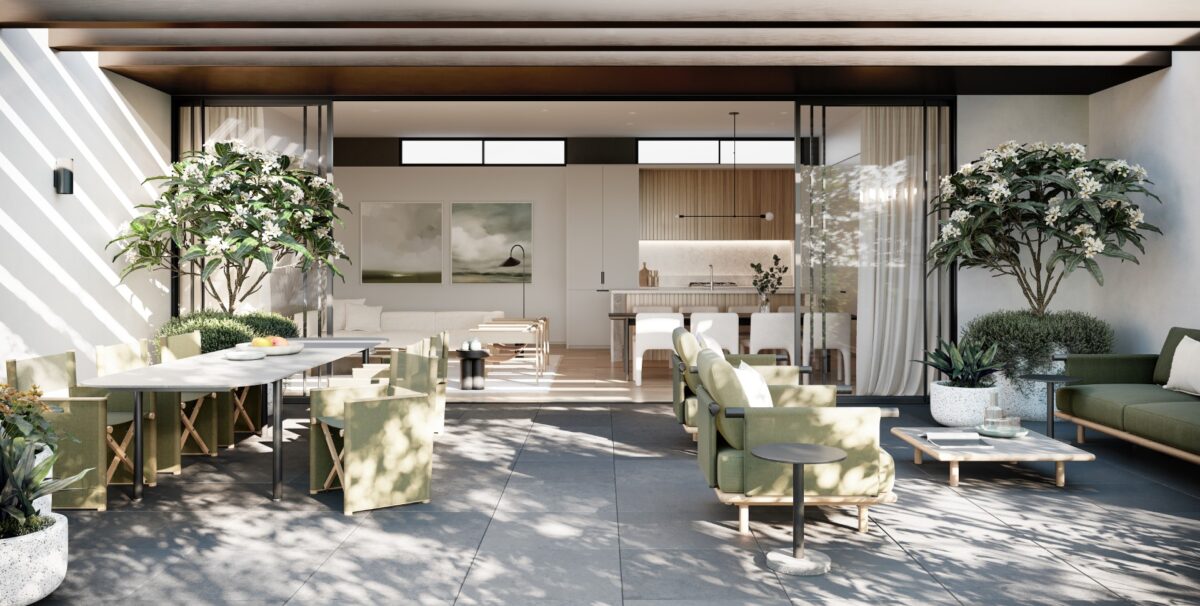 JUNE 2021
Award-winning integrated property investor and developer, Cbus Property, is a key driver of Sydney's post-COVID-19 property boom, recording 46 off-the-plan sales since the VIP launch of Young & Fennelly, the highly anticipated third release of the Newmarket Randwick masterplan.
Notable sales include a one-bedroom residence for $1.075 million; four top-floor three-bedroom residences priced between $2.9 million and $3 million; and several terrace homes priced between $2.9 million and $4.1 million.
Cbus Property's Chief Executive Officer, Adrian Pozzo, said that Young & Fennelly's response to "the post-COVID-19 lifestyle" had resonated so well with purchasers to date for its focus on family connection, open space, amenity and the joys of home.
"If anything has become evident in the wake of the pandemic, it is that people enjoy having all of their creature comforts in one place," he said.
"Our homebuyers are looking for an increased level of open space and amenity in and around their homes. Young & Fennelly's quiet park-side setting and proximity to the cafes and restaurants of the popular retail and dining piazza, Newmarket Dining, which we delivered with the completion of Stage 1 of the Newmarket Randwick masterplan, reduce the need to venture too far from home."
Colliers Residential is managing the competitive sales campaign, with sales director, Peter Kerras, saying "most of the purchasers at Young & Fennelly have been local downsizers, first homebuyers and investors, who appreciate the convenient location within the Eastern Suburbs, only minutes from Randwick Village, Coogee Beach, the University of New South Wales, Prince of Wales Hospital and light rail".
"The release of terrace homes in Young & Fennelly offers a unique product never before seen at Newmarket, and we have received huge interest in the terraces, as they are a more affordable option for homebuyers who would otherwise be looking at unrenovated semi-detached houses in the area," he said.
"We are dealing with very discerning buyers in the off-the-plan market, who are looking for quality product by a reputable developer. Cbus Property is highly respected across Australia, and this provides buyers with comfort and confidence that high-quality and well-designed residences, which stand the test of time, will always be delivered. This has been a major contributing factor to our success at Young & Fennelly to date."
Architecturally designed by Bates Smart and named for the streets it occupies, Young & Fennelly comprises 116 one-, two- and three-bedroom luxury residences across a seven-storey boutique "New Deco"-style residential apartment building, enjoying a parkland setting to the south and Botany Bay views.
In a first for the masterplan, Young & Fennelly will also feature 11 north-facing three-bedroom terraces. Opening directly to the street and featuring sunny living areas and light-filled courtyards, the spacious floorplans can be tailored to suit purchasers, with a bedroom or study on the ground floor.
Inspired by the parkland on its doorstep, Young & Fennelly's design is defined by soft horizontal lines of curved white brickwork contrasted with scalloped bronze-coloured metal cladding, creating a stately building of refined elegance.
Inside, the design has been informed by Newmarket's grand outdoor spaces, taking on the texture and colour of local flora, including paperbark, tallowwood, gum and Moreton Bay fig trees. A nod to the history of the Inglis family's Newmarket stables is articulated through hardware touchpoints, statement light fittings and the overall colour palette.
A residents' communal rooftop space on level four delivers lush pocket gardens by Arcadia Landscape Architecture and barbeque facilities for outdoor entertaining and relaxation.
Young & Fennelly is the latest stage to be released in the Newmarket Randwick masterplan, following Stage 1, Newmarket Residences, and Stage 1A, Figtree Pocket, which settled in July 2020 and October 2020 respectively.
The residential component of the masterplan is complemented by high-quality amenity, including popular Inglis Park and Newmarket Dining retail and dining precinct. Since opening to the public in January 2020, Newmarket Dining has grown to encompass a diverse retail and dining offering, including Gelato Messina, Ribs & Burgers, Dumplings & Beer, Sella Vinoteca, Café Mckenzie, CaliPress, RaRa Ramen Randwick, Baccomatto Osteria and Barber Signature.
Construction on Young & Fennelly is anticipated to commence in late 2021, with completion due for mid-2023. One-, two- and three-bedroom residences, plus a limited number of three-bedroom terraces are available for sale from $780,000.
Limited completed residences in Newmarket Randwick's first stage, Figtree Pocket, are also available for sale.