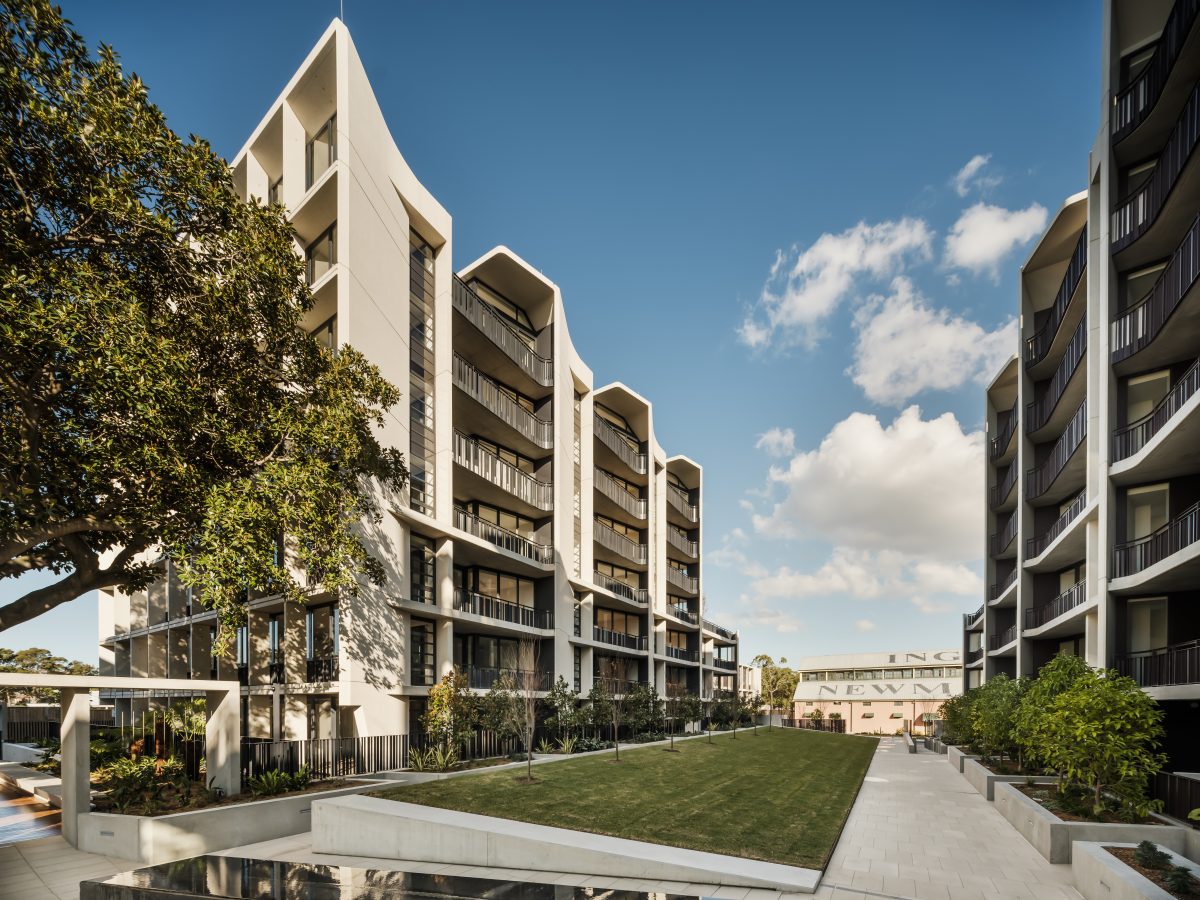 MARCH 2022
The first stage of award-winning integrated property developer and investor, Cbus Property's Newmarket Randwick, has sold out, continuing the precedent of success for the balance of the masterplan in Sydney's eastern suburbs.
The final three-bedroom residence in Stage 1A, known as Figtree Pocket, sold for $2.25 million earlier this month.
Cbus Property's Chief Executive Office, Adrian Pozzo, said the final sale was "extremely pleasing" and "a true testament to the quality of Newmarket Randwick and prospective purchasers' faith in the Cbus Property brand and product being delivered".
"This result demonstrates purchasers' ongoing confidence in high-quality residential product developed by respected developers," he said.
"We set out to develop a world-class residential community that would benefit residents and locals alike, which our purchasers have overwhelmingly recognised when committing to the finished product."
Figtree Pocket comprises 165 elegant one-, two- and three-bedroom residences across four buildings in a leafy, private pocket of the Newmarket Randwick precinct. Residents have access to The Deck, a landscaped communal space for outdoor entertaining underneath the 100-year-old namesake fig tree.
The project's second stage is experiencing equally strong results, with Young & Fennelly (Stage 2) 99 per cent sold since launching in May 2021 and Jane St. Terraces (Stage 2A) 45 per cent sold since launching in December 2021.
Mr Pozzo said that the open space and versatile layout of the Newmarket Randwick masterplan had proven particularly popular among purchasers throughout the global COVID-19 pandemic and in the wake of the recent Omicron outbreak.
"Our homebuyers are looking for an increased level of open space and amenity in and around their homes," he said.
"Prior to the pandemic, people were happy to journey away from their homes to neighbouring suburbs or into CBDs to work, shop, run errands, dine out and socialise. Now, they are wanting more options at their fingertips and our Newmarket Randwick masterplan delivers – with Inglis Park and the adventure playground, extensive open, green space, the Newmarket Dining retail piazza, and more retail offerings to come, creating a comprehensive and welcoming community."
Since opening to the public in January 2020, Newmarket Dining has grown to encompass a diverse retail and dining offering, including Gelato Messina, Ribs & Burgers, Dumplings & Beer, Sella Vinoteca, Café Mckenzie, CaliPress, RaRa Ramen Randwick, Baccomatto Osteria and Barber Signature.
Architecturally designed by Bates Smart and named for the streets it occupies, Young & Fennelly comprises 116 one-, two- and three-bedroom luxury residences across a seven-storey boutique "New Deco"-style residential apartment building, enjoying a parkland setting to the south and Botany Bay views.
In a first for the masterplan, Young & Fennelly will also feature 11 north-facing three-bedroom terraces. Opening directly to the street and featuring sunny living areas and light-filled courtyards, the spacious floorplans can be tailored to suit individual purchasers, with a bedroom or study on the ground floor.
Inspired by the parkland on its doorstep, Young & Fennelly's design is defined by soft horizontal lines of curved white brickwork contrasted with scalloped bronze-coloured metal cladding, creating a stately building of refined elegance.
Nine residences remain for sale in Jane St. Terraces, architecturally designed by nationally acclaimed SJB Architects. Named for its exclusive product offering, Jane St. Terraces comprises a remarkably boutique collection of 16 three- and four-bedroom luxurious terrace homes, inspired by the grand period-era terraces of Randwick and Centennial Park.
The terrace homes open directly to the street and feature flexible and spacious floorplans, with the stylishly pared-back open-plan kitchen and living areas defined by bespoke finishes, as well as courtyards and rooftop terraces for entertaining.
Construction on Jane St. Terraces and Young & Fennelly is anticipated to commence in the coming months, with completion due for late 2023 and early 2024 respectively. Limited residences remain for sale in both releases.
Please contact Colliers Residential on 1800 870 828 or go to www.newmarketrandwick.com.au for more information. The new display suite at in the Newmarket Dining retail piazza (Shop 14/162 Barker Street, Randwick) is open by appointment only.