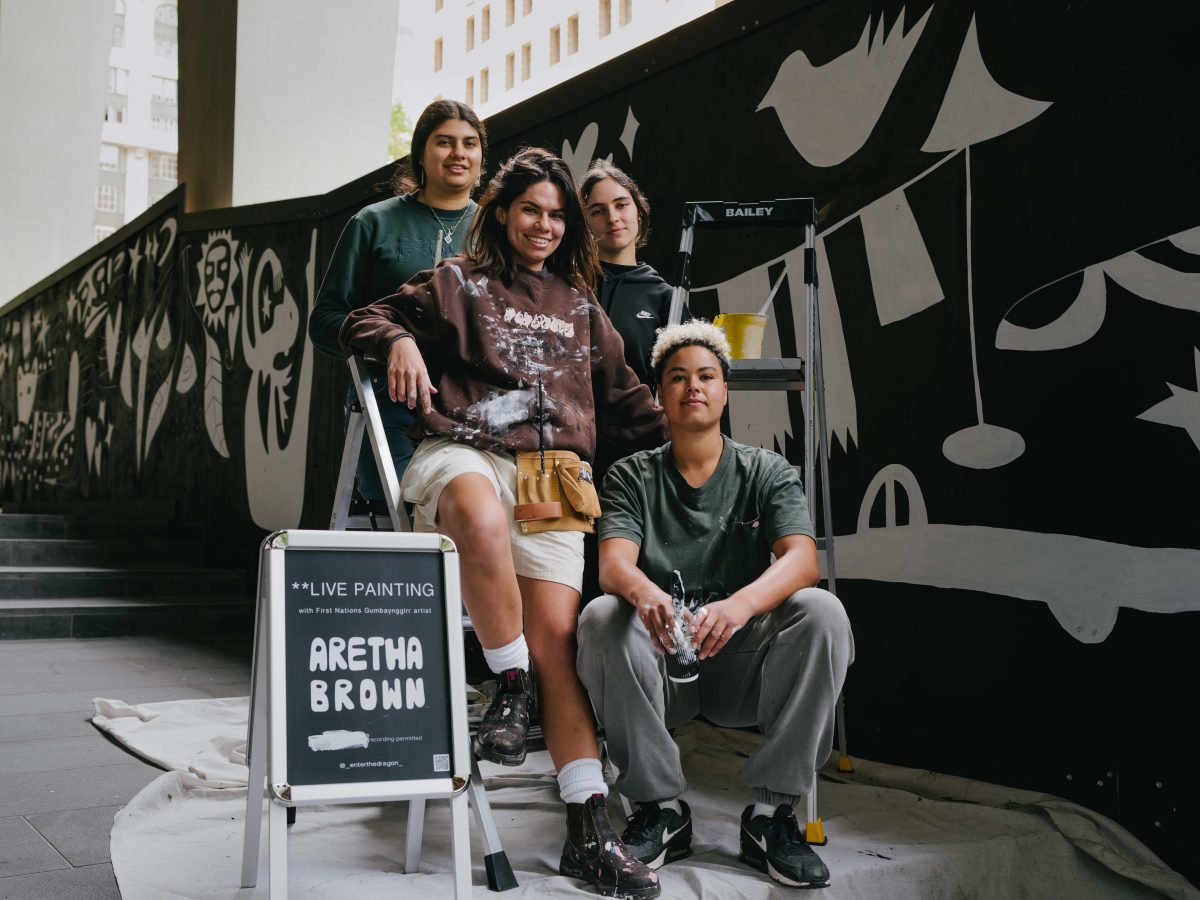 DECEMBER 2022
Transforming the new site works surrounding Cbus Property's dynamic Collins Arch precinct, Aretha Brown, a strong Gumbaynggirr woman, will celebrate Indigenous history, empowerment, and knowledge systems in her major mural spanning across 190 metres around the site's perimeter.
As a part of their ongoing effort to bring art, culture and to centre First Nations storytelling in the CBD, Cbus Property have partnered with Artist, Activist and former Prime Minister of the National Indigenous Youth Parliament (2017), Aretha Brown, Co-ordinated by Creative Producer Grace Dlabik (BE. ONE) and Thomas Supple (Before.), the mural is set to invigorate the renovation of Collins Arch.
Cbus Property is excited to support a female First Nations artist in Aretha Brown, a significant talent, who we are proud to champion by providing a platform for her art at Collins Arch," Cbus Property's Chief Executive Officer, Adrian Pozzo, said.
"Some of the most interesting and powerful art being made at the moment is by young indigenous artists like Aretha. We are thrilled that Aretha has undertaken this project, as her energy and
enthusiasm will contribute to the vibrancy in the dynamic Collins Arch precinct."
Aretha is a storyteller. She weaves history and the celebration of First Nations' histories together through her incredibly unique style of painting. Renowned for her bold prints and strong lines, Aretha explores First Nations Peoples' stories, ideas, ways of knowing and connection to land; cultivating works that situate First Nations Peoples in urban contexts.
This work will bring vibrancy to the precinct, and trace the historical lines of Country prior to colonial settlement.
In consultation with Elder, Aunty Annette Xiberras, Aretha will pay homage to this culturally significant site. The mural will celebrate the waterways and the rich biodiversity that lined the banks of the Birrarung prior to colonial settlement.
Simultaneously, the work will centre Indigenous activism and Bla(c)k empowerment today. Pivotally, Aretha's work will pay tribute to the wonderful Uncle Jack Charles, who passed away this year.
Nestled amongst one of the busiest areas of the CBD, this work is a unique exhibition of the incorporation of Indigenous storytelling within the fabric of the urban environment. This work will invigorate and spark reflection for its viewers and concurrently, support community members.
This will be facilitated through Aretha's all femme crew, **KISS MY ART COLLECTIVE, who will be on site assisting with the hand painting of the mural. The involvement of this crew is crucial to Aretha's practice, as it nurtures community growth; fostering pathways of connection, support and sisterhood.
Aretha Brown states: "It's an honour for me to be able to bring this project to life in such a bold way centring Indigenous storytelling and to be honouring Uncle Jack Charles. It's the biggest mural work **KISS MY ART collective and I have ever done and it's been wonderful to be able to work on this scale with a large crew in such a central part of the city."
We invite any media wishing to interview Aretha and cover the mural as it is going up, to attend the Collins Arch site (433-439 Collins St, 3000) on Thursday, 15 December 2022, 10am – 12pm.