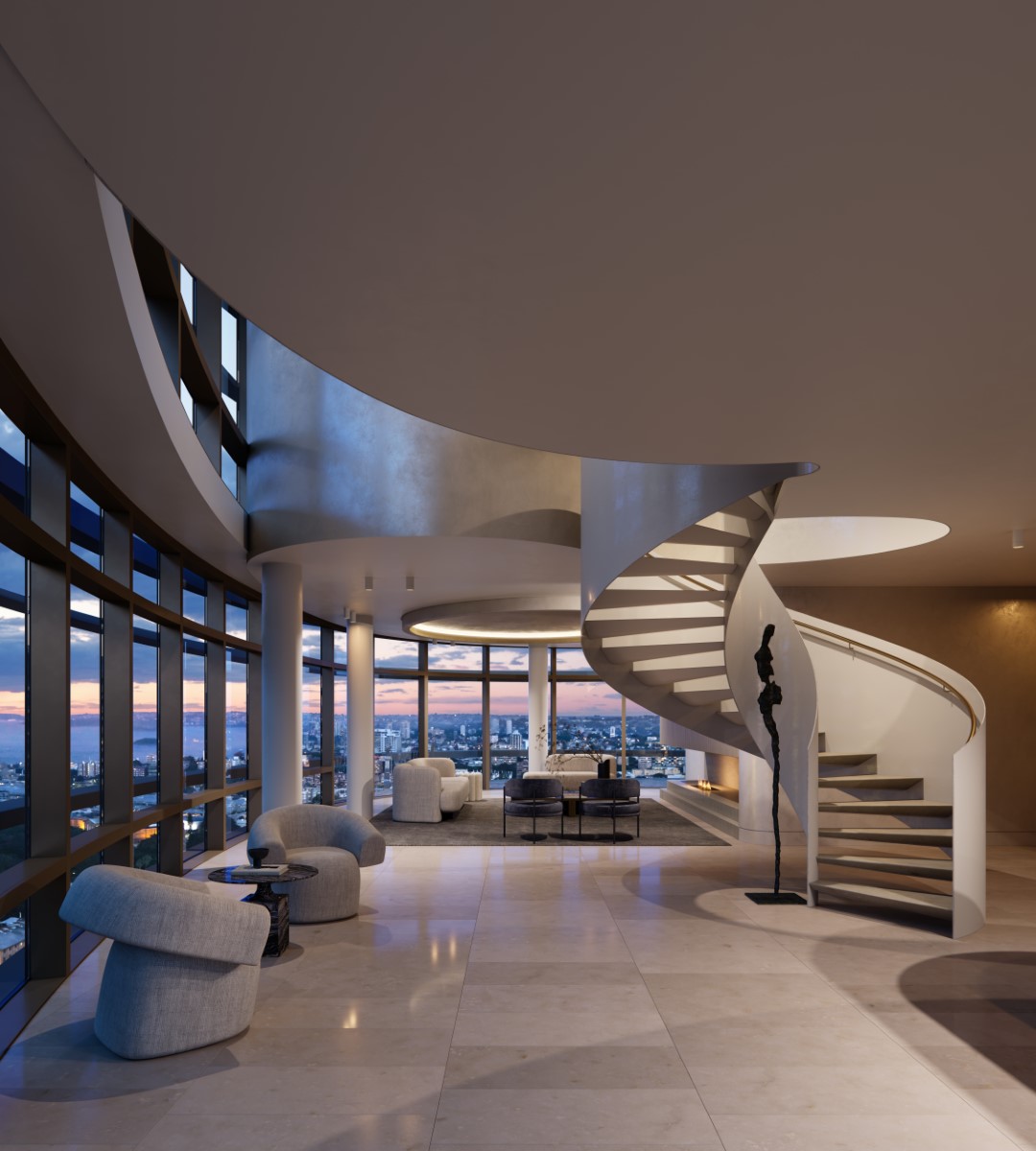 AUGUST 2021
The collection, consisting of one penthouse residence and two sub-penthouse residences, were sold to three separate buyers prior to their official release to the market.
Cbus Property's 111 Castlereagh Penthouse Collection in Sydney, consisting of The Jones, The MacKellar and The Cambridge Residences, has sold prior to their official release to the market for a combined total of $66 million.
The sales anchor 111 Castlereagh's position as the city's premium place for luxury living, setting a new standard for CBD residences that has drawn interest from owner-occupier buyers from the local market.
The development offers an exclusive collection of only 101 bespoke premium residences. Amongst the residences still available are two magnificent four-bedroom sky homes and a selection of expansive one-, two-, and three-bedroom residences, most with Sydney Harbour and Hyde Park views. All residences feature exclusive access to two levels of rooftop gardens replete with a heated open-air swimming pool, gym, residents' lounge and alfresco entertaining terraces, creating an oasis in the city to harmoniously accompany the luxury residences on offer.
"The sale of 111 Castlereagh's Penthouse Collection marks a resurgence in the return of Sydney city living and the ongoing appetite for high-end, primely located residential property, despite the challenges of the current COVID-19 climate," Cbus Property's Chief Executive Officer, Adrian Pozzo said.
"Shaped by ideals of beauty and perfection in everyday life, The Penthouse Collection is an exquisite tribute to the art of living and a remarkable opportunity in the heart of Sydney's CBD. We were able to offer these buyers an elevated experience of city living that we have witnessed become increasingly high in demand."
Mr Pozzo went on to say that each of the expansive penthouse residences offered a direct connection to the outdoors.
"This has now become a top priority for Australians and a non-negotiable for the buyers of The Penthouse Collection," he said.
The Penthouse Collection has been acquired by three separate Sydney-based buyers, with each citing to exclusive selling agent, Colliers Residential, that the boutique nature of residences, reputable local developer, and proximity to luxury shopping, dining and other CBD lifestyle offerings were key reasons for purchasing.
"The Penthouse Collection has drawn interest from owner-occupiers in the Eastern Suburbs and Lower North Shore of Sydney, each choosing to relocate, revealing a distinct trend and renewed desire for top-quality city living," Colliers Residential's Managing Director, Peter Chittenden, said.
"Speaking with the buyers, each had similar motives to purchase, which were very much centred around the development and construction team, with strong support for the reputation and longstanding Australian history of Cbus Property.
"They were also drawn to the iconic architectural design of the building and the central CBD location's liveability with shopping and dining. Construction is already underway with no pre-sale requirement, which gives buyers even further confidence in this iconic development.
"Large-scale luxury developments have recently become a more frequent offering for prestige buyers in Sydney, but the charm and elegance of an intimate, bespoke residence that can be tailored to each purchaser can never truly be rivalled."
The Jones Residence, aptly named after Sir Charles Lloyd Jones who led the success of the David Jones expansion on which the property sits, offers pure indulgence positioned at the highest point of 111 Castlereagh. The signature four-bedroom penthouse encompasses the entirety of Level 34 and part of Level 33 and includes two spectacular kitchens and living areas, a custom‑built, temperature‑controlled wine cellar and a butler's pantry. The residence boasts 360‑degree views across the city and towards the Blue Mountains, capturing Hyde Park, Sydney Harbour, the Eastern Suburbs and beyond.
The MacKellar Residence, a split-level four-bedroom sub-penthouse, is named in honor of Crawford Hutchinson MacKellar, the consulting architect who designed the former David Jones department store. The MacKellar's living spaces span across Levels 32 and 33 and are artfully connected via a sculptural staircase that pays homage to 111 Castlereagh's signature curves. In addition to its collection of four bedrooms, each with a private bathroom, there is a fully equipped butler's pantry serving as a secondary kitchen and a custom‑built, temperature‑controlled wine cellar.
The Cambridge Residence, a single-level four-bedroom sub-penthouse, is a tribute to the spectacle of Sydney's early days of The Cambridge Hotel. Capturing natural light and harbour and park views, the expansive terrace extends along the whole eastern frontage of 111 Castlereagh, creating an open-plan residence with seamless indoor and outdoor living. The residence features a decorative gas fireplace, custom‑built, temperature‑controlled wine cellar and butler's pantry.
"When you are working with a heritage building of such exceptional quality, as an architect, you need to come to that task with a real sense of respect and value," fjmtstudio's Design Director, Richard Francis-Jones, said.
"Framed by the urban environment and endless views across Sydney, the residences are designed as private, tranquil havens elevated high above the city streets. The foundation of the design is to create spaces with quality, depth and substance that evoke a sense of easy luxury, where everything has a place, and there is a place for everything."