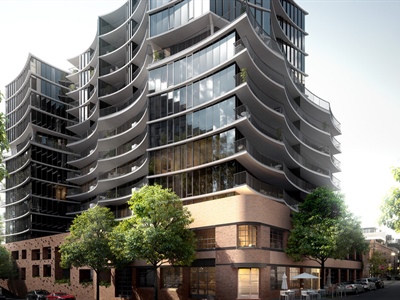 Cbus Property's Adrian Pozzo is aiming right for the sweet spot in Melbourne's apartment market: inner-city, owner-occupier and upmarket.
The super fund developer's latest $130 million project fits that mould. The 14-level tower will rise from an old industrial building on Cambridge Street in Collingwood, once home to the left-liberal The Monthly magazine.
Under the John Wardle Architects design, the building's 1920s two-level brick facade has been retained, including its original steel gate.
Through that gate will come buyers attracted to the ritzy end of the apartment market in a former industrial suburb that is rapidly gentrifying, according to Mr Pozzo.
"We see great potential in the affluent professional and downsizer markets craving impeccable apartments that offer generosity of space and high level of finishes," he said.
The major proportion of those buyers will be owner-occupiers – paying from $415,000 for a one-bedder with no car park to $1.95 million for a 3-bedder with two car parks.
But Mr Pozzo also expects between 10 per cent to 20 per cent to be investors, including offshore buyers.
Regulatory efforts this month to tighten lending to investors – especially those using interest-only loans – along with the existing squeeze on credit for foreign buyers have not bothered Mr Pozzo.
"People need to realise the Chinese and Asian market now is more mature," he told The Australian Financial Review.
"We're going to get a second wave of buyer who is accepting of all the additional fees and taxes and still believes there is value in Australia.
"The second wave of Chinese buyer is more attuned to lending practices than those earlier. They are more astute. The next wave have done their homework."
Another Cbus Property inner-city project, Assembly, in North Melbourne has now settled. The developer gave some buyers up to 90 days to source new finance as local banks tightened and cut credit.
Of the 138 apartments, just two sales fell over and were quickly resold at the same price, according to Mr Pozzo.
Apartments at 35 Spring Street, a $350 million high-end project in the CBD, are being settled progressively to ensure the new residents move in at a staggered pace.
Also in the city, Cbus Property has begun selling down the apartment component of its landmark twin-tower Pantscraper project on Collins Street.
And after Easter, Mr Pozzo's focus will turn to the Holme project in Collingwood, with construction due to begin by the middle of this year.
Architect John Wardle said the building's design paid tribute to Collingwood's industrial past.
"The remarkable island site bordered by tree-lined streets, allowed us to create an urban place very much part of its region but also detached from the hustle and bustle of its surroundings," he said.
"We looked directly to the suburb's dynamic culture, history and architecture for inspiration."
The curved design of the tower is a reference to the gritty suburb's old grain silos.
"We've designed generous balconies featuring metal balustrades, which extend the building's play between elegant forms and robust materials," Mr Wardle said.