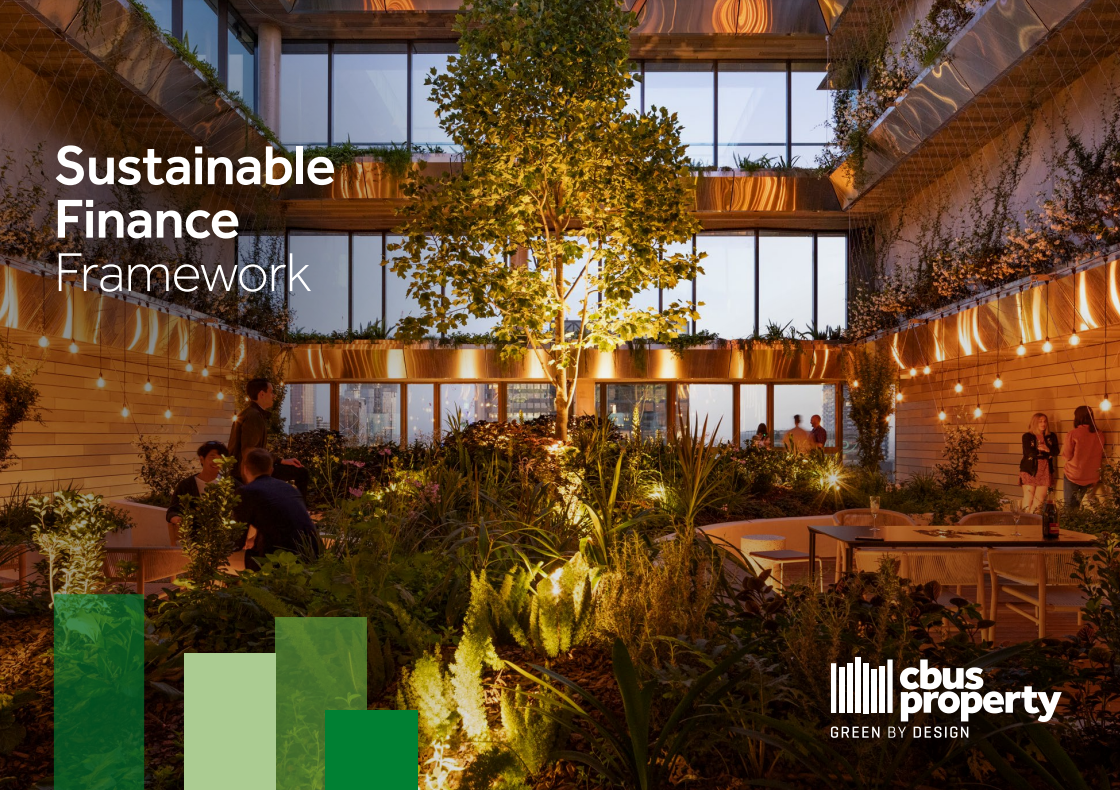 MAY 2022
National award-winning integrated property investor and developer, Cbus Property, has transacted its first two Green Loans in tandem with the launch of its Sustainable Finance Framework.
The two loans align to the Asia-Pacific Loan Market Association's Green Loan Principles, qualifying under the 'Green Buildings' eligibility criteria as established in the Sustainable Finance Framework. The funds are being used for 83 Pirie Street, a next-generation office tower in Adelaide's CBD, and the redevelopment of 111 and 121 Castlereagh Street, a world-class mixed-use building in Sydney's CBD.
83 Pirie and 121 Castlereagh (commercial office) are targeting 6 Star Green Star and 5.5 star NABERS Energy design ratings, while 111 Castlereagh (residential) is targeting a 7.6 Star average NatHERS rating across its residences.
Cbus Property's Chief Executive Officer, Adrian Pozzo, said that successfully executing the two Green Loans in accordance with the new Sustainable Finance Framework reinforced the business' industry-leading sustainability program, including managing the highest-rated NABERS Energy office portfolios in Australia in 2020 and 2021, and ranking in the top 1 per cent in the Global Real Estate Sustainability Benchmark (GRESB) in 2021.
"Cbus Property will drive the utilisation of this framework in our upcoming developments and explore opportunities to underpin our existing portfolio, while delivering on our commitment to achieve our sustainability targets and develop responsible investments for our members," Mr Pozzo said.
Commonwealth Bank (CBA) funded the Green Development Loan for 83 Pirie in Adelaide, which is currently nearing completion; while ANZ funded the Green Development Loan for 111 and 121 Castlereagh in Sydney, which is midway through construction.
"We are incredibly proud to support Cbus Property with one of its first sustainable finance issuances, and one that recognises a new development that is targeting some of the highest sustainability standards in the commercial property sector," CBA's Managing Director of Sustainable Finance and ESG, Charles Davis, said.
"Commercial property constructed today will serve Australians for decades to come so it is critical to embed the highest sustainability, energy efficiency and green elements in the design to ensure this infrastructure supports the transition to a net-zero economy of the future."
ANZ's Head of Sustainable Finance, Katharine Tapley, said that sustainable finance transactions were "an effective way to accelerate a corporate's strong sustainability strategy as the world economy transitions to net-zero carbon".
"Cbus Property is to be commended as a leader in the built sector through its development of best-in-class sustainable and high-quality buildings," she said.
"ANZ is very pleased to partner with Cbus Property on one of its first sustainable finance transactions, providing ANZ's first green loan with Cbus Property."
Mr Pozzo said that the Sustainable Finance Framework criteria aligned with Cbus Property's strategic sustainability targets, as outlined in its 2021 Sustainability Report.
"Sustainable finance is another important layer to our comprehensive sustainability strategy and will help facilitate our goal to become a world leader in the sustainable development and management of commercial and residential property," he said.
"Finance plays a significant role in the decarbonisation of the world and by adopting the sustainable finance standards, we can demonstrate that we are developing and managing sustainable net-zero carbon assets, which are driving positive impact on the environment and our communities."
Cbus Property's robust Sustainable Finance Framework outlines how the company intends to issue and manage sustainable finance instruments to support the delivery of its development pipeline and underpin its investment portfolio.
The framework has been independently verified by EY, through an assurance process to ensure alignment with best practice standards, including the voluntary guidelines issued by the International Capital Market Association (ICMA), Loan Markets Association (LMA), Asia-Pacific Loan Market Association (APLMA) and the Climate Bonds Initiative (CBI).
For more information or to review the Sustainable Finance Framework, please visit https://cbusproperty.com.au/.