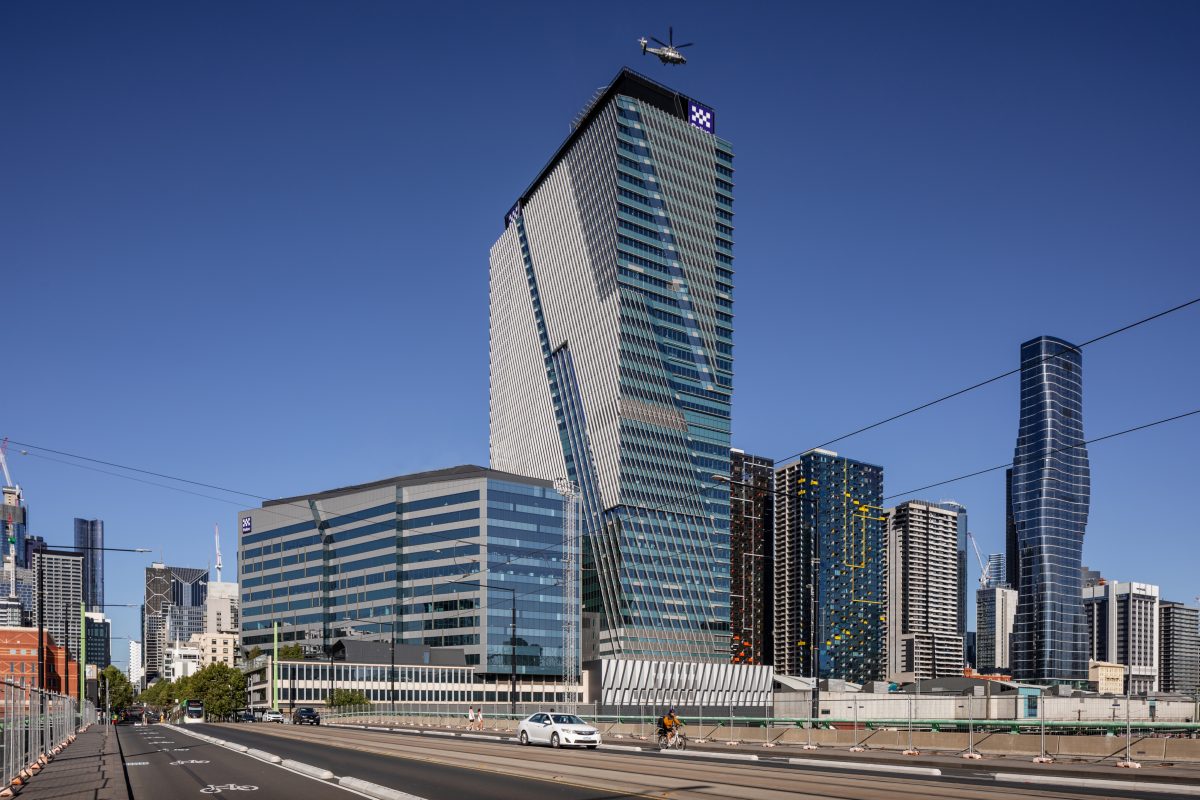 JULY 2023
National award-winning integrated property investor and developer, Cbus Property, has successfully closed its first offshore debt funding transaction, refinancing the existing domestic loan for its interest in 311 Spencer Street, Melbourne, through the Japanese debt market.
Occupying the north-west corner of the CBD's Hoddle Grid and known as the Victoria Police Centre, 311 Spencer Street is 100 per cent leased to the Victoria State Government under a long-term lease.
Four lenders, including two Japanese life insurance companies and two Japanese banks, have provided a 15-year syndicated Green Loan, with NAB acting as sole mandated lead arranger, bookrunner and Green Loan coordinator.
The transaction marks Cbus Property's third Green Loan in accordance with its Sustainable Finance Framework, which was independently verified by EY in 2022 through an assurance process to ensure alignment with best practice standards.
The Sustainable Finance Framework aligns with voluntary guidelines issued by the International Capital Market Association (ICMA), Asia Pacific Loan Market Association (APLMA), Loan Syndications and Trading Association (LSTA), Loan Market Association (LMA) and the Climate Bonds Initiative (CBI).
Rising 40 levels and powered 100 per cent by renewable energy, 311 Spencer Street has a 5 Star NABERS Energy rating and 6 Star Green Star Design & As Built v1.1 and Performance v1.2 ratings, ensuring alignment with Cbus Property's Sustainable Finance Framework under the Green Buildings eligibility criteria.
Cbus Property's Chief Executive Officer, Adrian Pozzo, said the funding certainty long tenor loans provided in uncertain economic markets had driven the offshore transaction.
"Cbus Property has entered the offshore debt market to benefit from long tenor and diversify our debt portfolio," he said.
"This transaction has also allowed us to refinance an existing loan facility with a Green Loan, increasing and enhancing our sustainable finance portfolio."
"NAB is very pleased to support Cbus Property to progress its sustainability ambitions by partnering on the refinancing of 311 Spencer Street, which provided global investors the opportunity to fund a world-leading green building, as evidenced by its 6 Star Green Star and 5 star NABERS Energy ratings," NAB Executive – Client Coverage, Cathryn Carver, said.
Cbus Property's robust Sustainable Finance Framework outlines the company's intention to issue and manage sustainable finance instruments to support the delivery of its development pipeline and underpin its investment portfolio.
Cbus Property's Sustainable Finance Framework criteria also aligns with Cbus Property's strategic sustainability targets, as outlined in its 2022 Sustainability Report.
"Sustainable finance is another important layer to our comprehensive Sustainability Strategy and will help facilitate our goal to become a world leader in the sustainable development and management of commercial and residential property," Mr Pozzo said.
"Finance plays a significant role in the decarbonisation of the world and by using sustainable finance, we can demonstrate that we are developing and managing sustainable net-zero carbon assets, which are driving positive impact on the environment and our communities."
For more information or to review Cbus Property's Sustainable Finance Framework, please visit https://cbusproperty.com.au/.