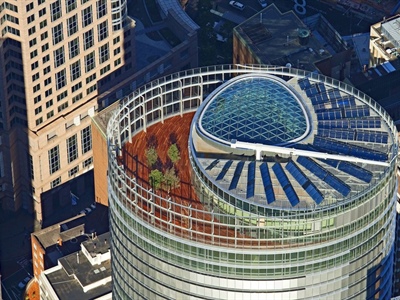 AFTER scouring Sydney's office market for three years Adrian Pozzo has landed one of Australia's biggest developments — the $700-million-plus 1 Bligh Street project in the CBD.
Mr Pozzo, chief executive of Cbus Property, a division of Cbus Superannuation Fund, last week became a partner with Dexus Property Trust in developing a tower designed to set new standards in green technology.
Cbus Property's initial investment is $60 million — its contribution to the cost incurred so far in the project. It will invest another $150 million in construction and other costs before the project is completed in 2011.
"We see this as a strategic investment and an excellent deal. It gives us an entry into Sydney's premium office market on a shared risk basis," he said.
Until the transaction, Dexus Property Trust owned 68 per cent of 1 Bligh Street and the unlisted Deutsche Wholesale Property Fund (DWPF) owned 32 per cent.
DWPF has been given the option of increasing its stake so the three parties will have an equal share.
"We looked at a lot of projects in Sydney in the past three years, but none was priced right. The market was not ready and had a high expectation of price."
Mr Pozzo, whose career in the building and construction industry started in 1984, joined what was then known as Australian Super Developments in 2002 before it was restructured and renamed Cbus Property in 2006.
Unlike other superannuation funds, which are mostly passive investors, Cbus Property takes on development risks for its own projects.
The property arm of the industry fund for the construction and building industry, which manages some $12 billion on behalf of more than 550,000 members, owns a property portfolio valued at $1.6 billion.
Its parent, Cbus Superannuation, is an investor in the $1.2 billion Breakfast Point urban renewal project in Sydney's west, in a joint venture with Rosecorp.
Cbus Property now manages Breakfast Point. "We have completed and sold 1200 residential lots so far, with another 800 to go," Mr Pozzo said.
"Despite the ups and downs of the Sydney market it has been a good investment. We feel the Sydney residential market would be the first in Australia to recover."
However, rather than residential projects, he said, the primary focus for Cbus Property was to build and hold premium office buildings.
It has developed two Melbourne office projects, the Ernest & Young Tower on the site of the old Herald Sun newspaper office at Exhibition and Flinders streets, and the CBW Tower on the corner of Bourke and William streets.
The CBW project, which offers 75,000sqm in two towers, was completed in September.
The CBW towers were 90 per cent leased, Mr Pozzo said. Insurance group IAG is the major tenant in the taller first tower and accounting firm Deloitte is the major tenant in the second tower.
Cbus Property has developed 5000sqm of retail space along Goldsborough Lane, which links the two office towers.
"We have an appetite for more projects, but they have to make commercial sense," he said.
Cbus Property owns a site in Melbourne's Docklands earmarked for a 45,000sqm office block.
"We will start work on the project when we can pre-lease the bulk of the space," he said, adding that he would like to have the project completed in late 2011 or early 2012.
Cbus Property is developing a $400 million office block in Perth, due to be completed in 2010.
Mr Pozzo said two-thirds of the space had been pre-leased to the West Australian government and it was negotiating with potential tenants for the remaining space.
"The vacancy rate remains low in Perth. It has risen from 0.3 to 1.3 per cent for premium commercial space," he said.