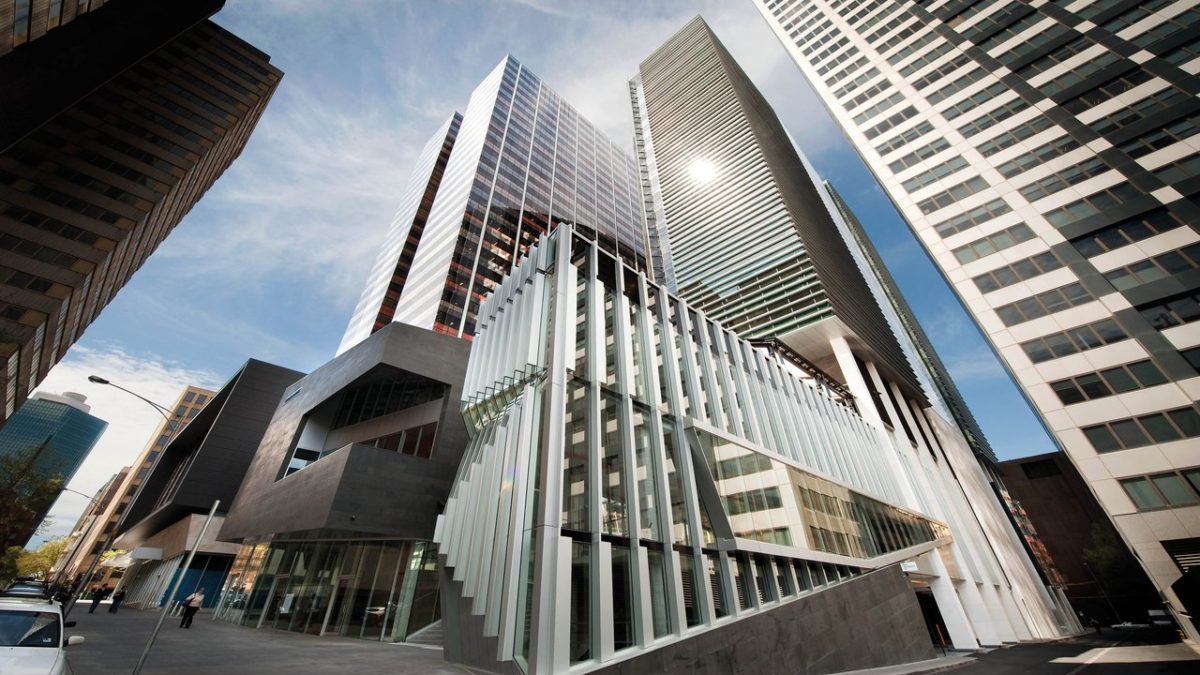 Cbus Property has received an amendment to the existing Town Planning Approval enabling the second tower at the mixed use development on Bourke and William Street to be used entirely for office accommodation.
The original permit was for the 550 Bourke Street tower to be a combination of office and hotel. Like 181 William Street, the site's second tower at 550 Bourke Street will now be an A-grade building with Premium Services and designed to achieve a 5 Star Green Star and 4.5 Star Australian Building Greenhouse Rating (ABGR).
Chief Executive of Cbus Property, Kevin Fitzpatrick said the total development will be known and marketed as "CBW" clearly defining the location, corner Bourke & William Streets, and will create a new commercial and retail precinct right in the geographic heart of Melbourne.
"The development will rejuvenate the western heart of Melbourne's CBD and provide a vibrant new hub for Melbournians to work, shop, dine and connect.
"It is also one of only a few new office buildings in Melbourne with planning approval in place which will enable us to swiftly respond to client demand for commercial space in the CBD," he added.
The precinct, which is now well under construction, is bounded by the streets of Bourke, William, Little Bourke and Ramsay Lane. The two commercial office towers, 550 Bourke Street and 181 William Street, will provide 25,500 and 49,500 square metres of net lettable space respectively.
CBW's ground and mezzanine levels will consist of approximately 4,500 square metres of vibrant café and retail culture accommodating a diverse range of boutiques, food and beverage, and service retail outlets. The retail area linking the two new towers together, will accommodate the needs of some 4,000 employees resident in the development, as well as city workers in the surrounding offices and court buildings, and visitors to the precinct. The revitalised Goldsbrough Lane will lead into an open-air all-weather protected plaza that embodies the best of Melbourne's character and offers occupants and visitors a unique environment in which to work and relax.
Environmentally sustainable features will include an energy efficient façade, 'destination' lifts, a 'small car' car park, and black water treatment plant."
We have a joint initiative with CGU Insurance to achieve a five star Green Star rating for CBW's 181 William Street tower – the first non-government owned building to commit to this level of ESD performance in Melbourne," he said.
Already the combined pre-committed leasing of 181 William Street is equivalent to about 75 per cent of the building's net lettable area. Insurer CGU, part of the Insurance Australia Group (IAG), has committed as the anchor tenant for the project.
In addition, one of Australia's pre-eminent law firms, Blake Dawson Waldron, will move back into the heart of Melbourne's legal precinct occupying the top floors of 181 William Street, from levels 22 to 26. Cbus Property's parent Company is Cbus, the national construction industry superannuation fund with assets under management exceeding $9 billion. Cbus directly manages the retirement savings of over 440,000 Australians.