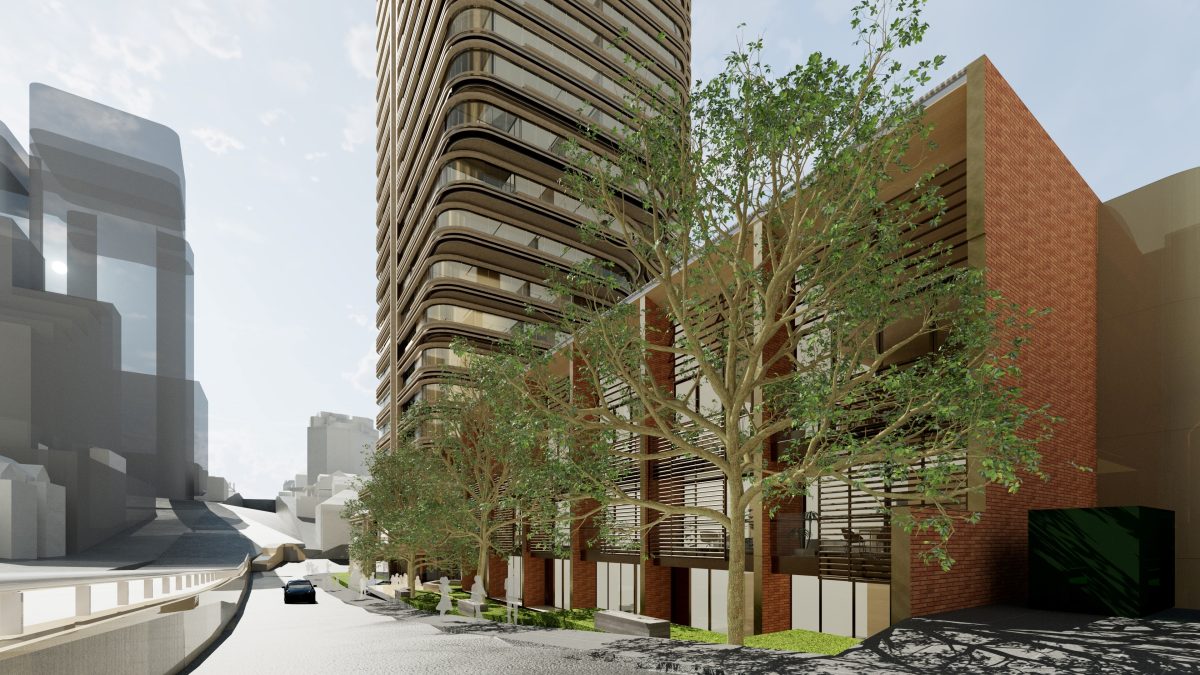 JULY 2022
A Cbus Property joint venture has lodged a Development Application (DA) to deliver a world-class residential project on the East Walker Street site in North Sydney.
The joint venture purchased the property in July 2021 from developer, Avenor. The venture has engaged award-winning architectural firm, fjmtstudio, to design an iconic residential building comprising a 28-storey tower on the site's north-west corner with a low-rise, four-storey podium to the east of the tower base on Hampden Street, plus six terrace houses fronting Walker Street.
Cbus Property and its partners were attracted to the newly rezoned site because it presented an opportunity to create an iconic premium residential offering, ideally suited to downsizers, young families and professionals.
The site's proximity to the Victoria Cross Metro Station (planned to commence operation in 2024) was also a significant drawcard for the joint venture.
"In recognising the prime location of the site within close proximity of the vibrant and burgeoning North Sydney CBD, we seized the opportunity to create this partnership to deliver this outstanding residential development opportunity," Cbus Property's Chief Executive Officer, Adrian Pozzo, said.
"The intention is to develop high-end owner-occupier residences in this fabulous location, with views across the eastern side of Sydney Harbour and northern Sydney."
The project, located at 173-179 Walker Street and 11-17 Hampton Street, North Sydney, will deliver a range of residences. The tower will capture spectacular 'forever' views back to Sydney Harbour Bridge, the Opera House and the Heads to the east and south east, and Neutral Bay to the north. The terraces will directly connect to Walker Street with ground-floor courtyards and terraces overlooking landscaped grounds to the west. The podium will accommodate low-rise residences and a range of resident amenity.
The DA provides for three studio residences, 41 one-bedroom residences, 68 two-bedroom residences, 60 three-bedroom residences, eight three-bedroom sub-penthouses, three four-bedroom penthouses and six four-bedroom Walker Street terraces.
Comprising a total of 189 residences, the revised proposal reflects a substantial reduction in residences when compared to the 266 residences in the 'reference scheme', which was considered in the rezoning process by the previous owner and informed potential design outcomes within the approved site envelope. Car park numbers have also been reduced, with 228 residential car spaces in the current proposal, as compared to 339 in the reference scheme.
The circa $700 million luxury development will also include a pool, sundeck, barbeque area and gymnasium. Environmentally Sustainable Design (ESD) features include solar power, natural light and ventilation performance, water-efficient landscape design, active lifestyle support and car-share opportunities.
Fjmtstudio prioritised the reduction of impacts to surrounding neighbours, respecting the site's position in the Sydney Harbour and North Shore landscape. Design Director, Richard Francis-Jones, said delivering improved outcomes for the local community was a key objective for the proposed development.
"We have worked carefully within the approved planning controls to design a building that optimises view sharing and sunlight access for our immediate neighbours," he said.
"It is a unique and innovative design, generated directly from these key community issues. It has been very helpful consulting with the local community to understand their concerns and explain our design."
North Sydney is undergoing a renaissance. With 80,000 workers expected in North Sydney by 2036, plans are afoot to usher in a new generation of homeowners, businesses and visitors and transform it into a second CBD.
Nineteen government projects are currently reinforcing Miller Street as North Sydney's civic spine, joining 17,000 square metres of new parks, plazas, laneway networks and entertainment precincts.
Between Berry Street and the Pacific Highway, the potential closure of Miller Street creates an epic 7,450-square-metre public plaza outside the new Sydney Metro station, while a new smaller plaza outside the iconic post office provides another intimate setting for public enjoyment. Plans for a Warringah Land Bridge will connect North Sydney with the other side of the freeway.
At the same time, the conversion of the tramway viaduct into a sizeable active recreation space and an upgrade to Primrose Park, featuring four new tennis courts, a barbeque area and a children's playground, will deliver ample space for locals to enjoy the outdoors.
The East Walker Street site is central to North Sydney's ground-breaking new infrastructure. It will be pivotal to its restoration as a pre-eminent residential, cultural, commercial and entertainment hub.
In recognition of feedback received through the rezoning process, North Sydney Council's consultation on the Ward Street Precinct Masterplan, and its Development Control Plan amendment, the joint venture commits to keeping the local community informed and providing opportunities for feedback throughout the DA process.
For more information, please visit https://eastwalkerstreet.com.au/.