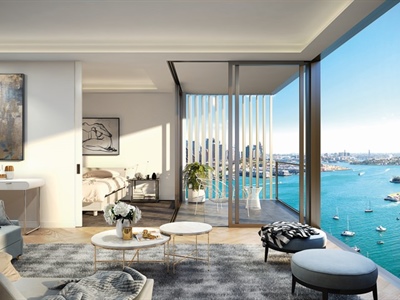 Cbus Property has recently commenced works on its development at 88 Alfred Street, Milsons Point, creating 123 luxury apartments. The site, being the former Vibe Hotel at Milsons Point, provided Cbus Property with an opportunity to give back, when the hotel was handed over to the, full of furniture, linen, electrical and white goods.
Cbus Property was keen to ensure that these quality items were donated to an organisation who could offer them to people that really needed them.
Colliers International suggested contacting the Property Industry Foundation (PIF), to see if the contents of the hotel could make a difference to people in the community. PIF eagerly accepted, suggesting that the contents of the hotel could be used in their latest housing project at Dundas.
"PIF were thrilled to accept a range of furniture, including paintings, beds, bedding, lamps, TV screens and linen to use in their new housing project at Dundas," said Curtis Field, National Director, Residential at Colliers International. "To have the vision to recycle these products to make a difference for kids in need is a very admirable initiative by Cbus Property."
The PIF housing project at Dundas will assist homeless youth between 16-14 years of age. The house provides a safe place for these individuals to get back on their feet providing shelter, training and ultimately assistance in finding a job. The long-term goal is to transition these youths in need into employment and provide them with the assets and skills to move into their own home and to build a future off the streets.
"We were delighted to be able to assist PIF with the donation of furniture for their new housing project," said Adrian Pozzo, CEO of Cbus Property. "PIF provides youth in need with the skills to be able to build a future, regardless of the start in life they may have had, so recycling these products to help this worthy cause was a great option for us and aligns with the spirit of both the Cbus Property and Colliers International brands".