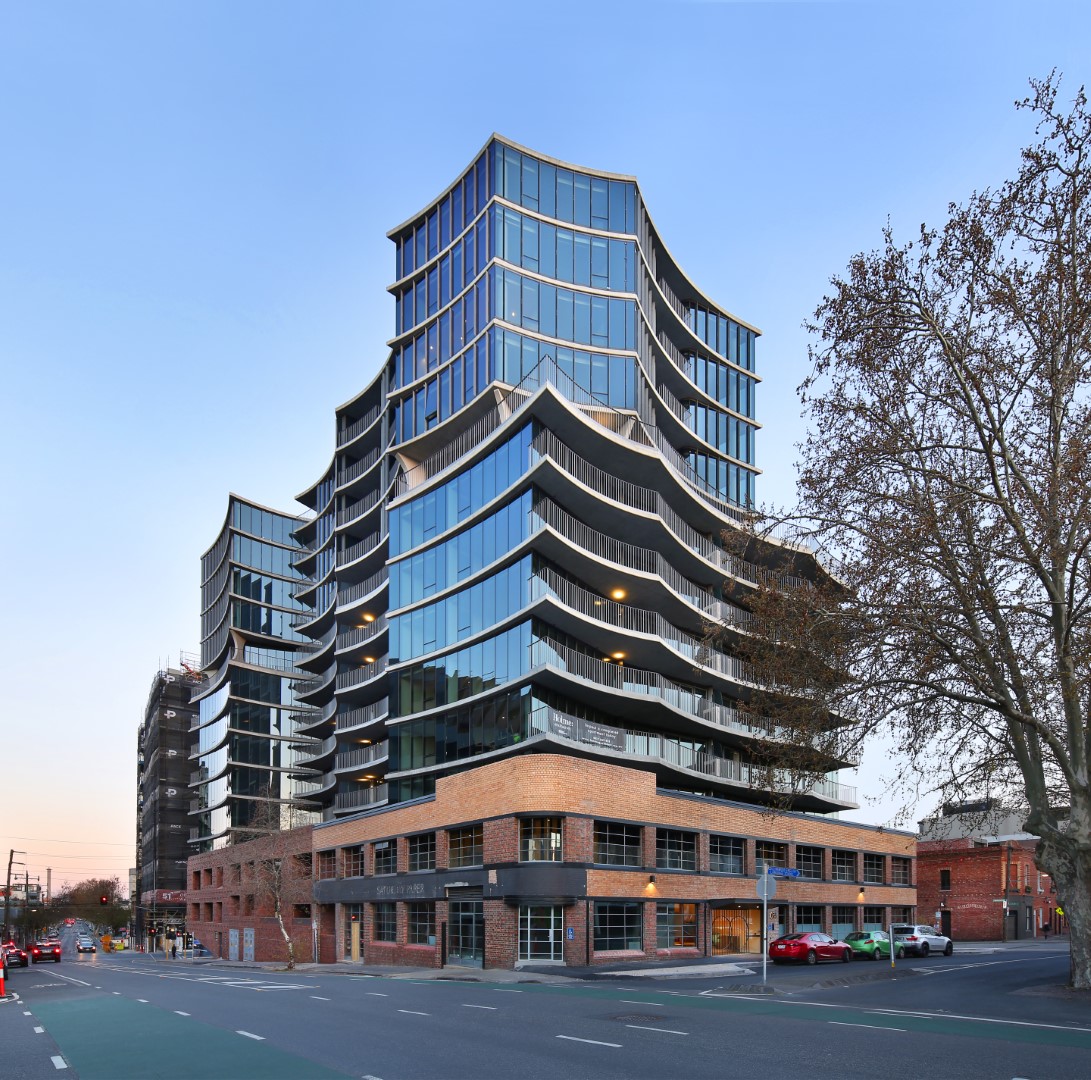 NOVEMBER 2019
Cbus Property has transformed one of Collingwood's 1920s-era buildings into a $130 million residential development, blazing a trail for innovative architecture in the area with the delivery of Holme.
The completion of the 14-level landmark project opens a new chapter for refined large-format apartment living on the edge of Melbourne's CBD, while setting a new benchmark for design by blending timeless period-era architecture with cutting-edge contemporary ideas and functionality.
Residents have started to settle their new apartments at Holme, constructed by Hacer Group with architecture and interiors by John Wardle Architects, which occupies a rare inner-city island site of 2,100 square metres in the heart of the historic Slope district, bordered by Cambridge, Derby, Langridge and Wellington streets.
Cbus Property CEO, Adrian Pozzo, said Holme had succeeded in delivering an iconic apartment complex that paid tribute to Collingwood's industrial interwar heritage.
"Collingwood is one of Melbourne's oldest suburbs and original sites of labour and industry," he said. "It's an area that has been marked by continual redefinition and is at the heart of Melbourne's diverse culinary, art and design culture. Our collaboration with John Wardle Architects has created a retreat for residents and a remarkable addition to the streetscape for passers-by, located on the doorstep of the city and among all the lifestyle amenity that Collingwood has to offer."
Comprising 152 one-, two- and three-bedroom large-format apartments, plus a strip of ground-level commercial/retail tenancies, Holme has proven popular with downsizers, young professional couples and people who have aspired to live in the Collingwood or Fitzroy area.
The boutique development incorporates a 1920s-era two-storey building, retaining its art deco brick exterior, brick parapets and large steel-framed windows to create a striking street presence. It blends more than 100,000 new and existing bricks to form a continuous podium around the entire island site.
"This is a rare site deserving of a considered multi-storey residential building, rich in the fine-grain detail required to mesh with the existing historic fabric of the street frontages," John Wardle Architects principal, John Wardle, said.
"The retention of the existing brick façade for the podium levels, and its marriage with the new, will continue to complement many of the existing fine quality brick buildings in the area, such as the nearby 19th-century Foy & Gibson factory buildings and the Yorkshire Brewery tower, which has also been repurposed into a residential complex."
Building on this philosophy, Mr Wardle went on to say that the design of Holme had been inspired by the historical Collingwood silos.
"Many of the silos in the Collingwood area have recently been demolished so Holme's unique structure has been generated to contextually reference the ghost of silos past," he said.
"Curved concrete-slab edges and balconies appear as a series of continuous sweeps around the entire building at each floor level above the brick podium. These continuous slab and balcony edges sweep around the entire perimeter of the building, maintaining a sculptural quality for the residential floors."
An indoor/outdoor communal area for residents is located on level nine and includes seating for small and large groups with an indoor fire or outdoor firepit, a formal dining area for larger groups, a kitchen, bar and private dining space, a teppanyaki grill and a sculptured sky garden. Its landscaped terrace takes in spectacular west-facing views of the city.
"We wanted to create many moments of different activities for different groups – a multitude of nooks," Mr Wardle said.
"The active lobby space on the street level also includes a spectrum of public and private pause moments and is connected to the café tenancy."
Mr Wardle said a simple, minimalistic material palette, of predominantly brick, concrete, steel and glass, had been selected to provide a contemporary aesthetic that complements the distinctive design brief.
"Each material is used in a way that contributes to defining a contemporary response," he said.
"The curved silo-influenced forms established on the exterior of the building continue to interior elements and on many scales – in the curved columns of the level-nine communal area, in the apartment joinery and in the door handles."
Cbus Property continues to break new ground in sustainability, with Holme's design taking into consideration everything from the construction materials to the indoor environment quality and waste management system. Stand-out environmentally friendly features include an energy-efficient heating, ventilation and air-conditioning system, solar power, high-performance thermal glazing, and highly efficient rainwater harvesting and stormwater management initiatives to achieve a STORM rating of 100 per cent.
The site also maintains its ecological value through the reuse of already-developed land and has indigenous and drought-tolerant landscaping courtesy of Tract Consulting.