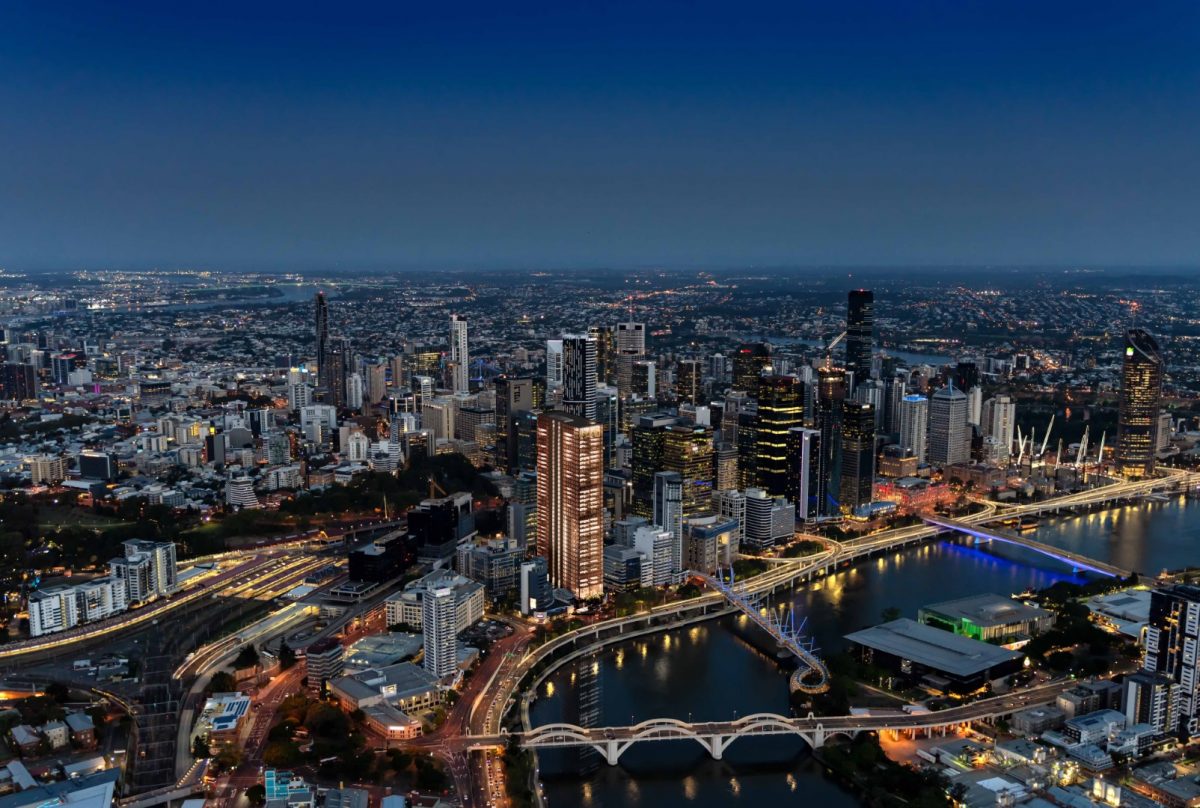 JULY 2020
Cbus Property and Nielson Properties, together with Brisbane's Raniga family, have lodged a Development Application with Brisbane City Council for an unprecedented, holistically healthy commercial tower that will bring office health and well-being to the fore in Brisbane, showcasing the New World City's unrivalled views, lifestyle, amenity and accessibility.
To be known as 205 North Quay, the $600 million development is planned to become the first commercial building in Australia to offer tenants a holistic work-life approach and will be one of Brisbane's most internationally recognisable river-edge developments. Its proximity to Brisbane's new Grand Central station on Roma Street is anticipated to be a key attraction for new tenants.
Designed by internationally acclaimed architecture firms Hassell, New York-based REX and Brisbane's Richards & Spence, 205 North Quay will set a new benchmark for workplace well-being, creating a workplace that is inherently more inspiring and collaborative for its occupants. The world-class amenities will include a whole-floor wellness facility, 25-metre lap pool, childcare facilities, a public realm auditorium, outdoor terraces on every level, and rooftop collaboration and celebration facilities.
Cbus Property's Chief Executive Officer, Adrian Pozzo, said the company was pleased to be able to formally submit the development plans, which would optimise the site's potential and be a catalyst for activating the North Quarter of Brisbane's CBD, bounding the city's government precinct with Cbus Property's prominent 1 William Street commercial tower.
"We are excited to seek planning approval from Brisbane City Council for 205 North Quay, a unique and healthy workplace that will evolve with its users into the future and create a new front door to the city, setting a design standard for others to follow in the exciting burgeoning precinct," he said.
"The project team has been tasked with creating an office tower that. contributes to Brisbane's identity as Australia's New World City, helping to attract investment and tourism, embrace the Queensland lifestyle and ultimately drive the city's economic growth. As part of thisCbu, 205 North Quay's cutting-edge design also exceeds the council's 'Buildings that Breathe' guidelines."
Similarly to Cbus Property's first subtropical design in Brisbane, 443 Queen St, a luxury residential tower designed by Singapore-based WOHA and Architectus that is currently under construction, 205 North Quay also takes advantage of Brisbane's benign climate. Deep building overhangs, multi-level cross-ventilation and shade-giving plantings maximise the use of external, public places in all weather conditions.
"To assert both the subtropicality and wellbeing focus for 205 North Quay, a full tower floor will be dedicated to wellness, which will be inclusive of an extensive end-of-trip offering, exercise studios, healthy eating offerings, consultation suites and a 25-metre lap pool overlooking the Brisbane River," Nielson Properties' Director, Ross Nielson, said.
Every floor will benefit from a terrace space in a diversity of scales, creating a new type of office tower experience. In addition, there will be an expansive roof terrace allowing for indoor and outdoor collaboration and celebration.
"This extraordinary amenity will be one that is largely unparalleled in Australian CBD commercial developments and available exclusively to the tenants of 205 North Quay."
Mr Pozzo elaborated on this concept, saying that 205 North Quay would be a "holistic workplace with wellbeing its core priority."
"With the impact of COVID-19, the increased importance of our mental and physical health has never been more emphasised," Mr Pozzo said.
"At 205 North Quay, we have a unique opportunity to create a building and set of spaces that are uniquely positioned to blaze a trail for healthy buildings and their potential. A place for employees to come in and be their best at work. This is a truly unique workplace proposition, one that will set a new benchmark for commercial tower models long into the future."
In line with Cbus Property's commitment to achieve Net Zero carbon across its portfolio by 2030, 205 North Quay is targeting a 6 Green Star rating and 5.5 Star NABERS Energy rating. As part of this goal, Hassell, REX and Richards & Spence's contemporary design for the tower will efficiently reduce energy, waste and water usage, control midday, afternoon and early evening sun through a highly articulated facade, incorporate LED lights and sensors and use regenerative lifts.