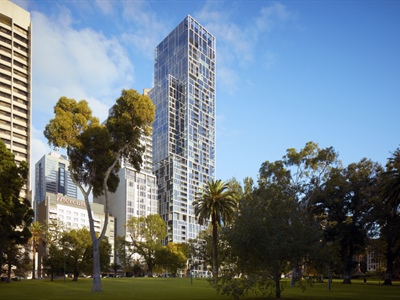 Inspired by the reputation of Manhattan's famed Central Park luxury apartments, Cbus Property has unveiled Melbourne's newly completed luxury address 35 Spring Street, partnering with leading architecture practice Bates Smart to deliver a quality, design statement and beacon in Melbourne's CBD.
Fronting Treasury Gardens, the building brings a slice of Manhattan living to Melbourne, with a design that pays tributes to luxury apartment buildings known the world over – One Hyde Park, 432 Park Avenue and 740 Park Avenue.
Sold out shortly after its off-market launch in 2013, apartments in the new Melbourne icon have been snapped up by CEOs, architects, property developers and other high profile personalities.
Recognising the uniqueness of the location, numerous purchasers have combined some of the building's original 270 apartments, including three who bought one floor each, with the final number of apartments being 241.
Cbus Property CEO Adrian Pozzo said 35 Spring Street's completion signalled the arrival of a new style of living in Melbourne, inspired by New York's Central Park.
"35 Spring Street is the first luxury apartment building to be completed in Melbourne in many years and proves there is a market and appetite for well-designed, generous apartment homes," he said.
"It is a building designed to be ahead of its time, while remaining classic for decades to come. The intention was to bring Manhattan's luxury apartment lifestyle to Melbourne, and deliver the types of homes we associate with Central Park."
Befitting its calibre of resident, the 42 level building was opened by Planning Minister the Hon Richard Wynne.
Neighbouring the Old Treasury Building, its design marries with the city's heritage government buildings while standing as a beacon above the city's surrounding high rises.
It features all the amenities of a Fifth Avenue address, including a resident's concierge, 25 metre indoor lap pool, private wine cellar, exclusive grand dining room and fully-equipped gym.
Bates Smart Director Kristen Whittle said the design intent for 35 Spring Street was to create a contemporary reinterpretation of Melbourne architecture.
"35 Spring Street is heavily informed by its location. The building's façade references the materiality of it surrounding buildings – its vertical strands provide elegant proportions and a crispness of edge.
"It aims to define the edge of the city, much like you see in Manhattan, and presents a strong line and edge between the CBD and the park."
When approached from the east, the building stands as an entry to the city and its prominence is pronounced by the unusual absence of a set back – made possible by the open space of the park opposite.
A double skin wraps around the building's frame in an asymmetric ashlar pattern, providing single double and triple sized windows. The rectilinear lines that run both horizontally and vertically control the building's external appearance as its form evolves from podium to tower, with balconies interspersed.
The Flinders Lane façade loosely takes on the handcrafted, playful characteristics of the street it overlooks, with the building's skin representing the weft and layering of fabric – a nod to Flinders Lane's rag trade history.
Entering the lobby via the strongly denoted doorway, a restaurant extends to the right while the residents' lobby occupies the prime corner space overlooking Spring Street and Flinders Lane.
Grillage frames that encompass the lobby reference the external design, as if dropped into the interior space. A variety of seating provides intimate areas to meet, socialise or contemplate, in front of a striking fireplace that evokes a domestic, cosy atmosphere.
Concrete columns line the lobby's periphery, anchoring the space and defining its boundary. The rough formwork texture offsets the heavy columns and provides intricate detail.
An Inge King sculpture, preserved from 35 Spring Street's previous iteration, is a heroic centrepiece, which greets residents at the lift lobby before they ascend to their grand apartments.
Each residence is afforded a protected terrace or outdoor room that opens up to the park opposite or the surrounding cityscape. From the interior, the view is framed by the geometrically detailed exterior skin as if an artwork.
The first eight levels, making up the podium, enjoy lush views of the treetops and have an air of the opposing parklands as part of their front yard. Carparks are located on these first eight levels, ensuring ultimate ease of lifestyle for residents.
Amenity is located on the ninth floor, comprising private dining room and kitchen, wine storage, 25 metre pool, gymnasium, internal entertaining area and outdoor deck with barbeque. This amenity level forms the demarcation of the building's podium below and tower section above.
Residences on levels 10 to the penthouse on level 42 are afforded sweeping vistas via the generous windows that also allow an abundance of natural light to pervade.
Bates Smart Director of Interior Design, Jeffry Copolov, said 35 Spring Street is a highly resolved building: "The design is enduring, highly crafted and profoundly detailed, and is sure to stand the test of time.
"These residences are designed with integrity and emanate calmness and quality. For too long, apartments were too mean, too small and provided no amenity. 35 Spring Street is a complete departure from this legacy, with the utmost care taken when designing and building the residences."
About Cbus Property
Cbus Property is a wholly owned subsidiary of Cbus, the industry superannuation fund for the construction, building & allied industries, with funds under management currently exceeding $36.0 billion. As part of the portfolio, Cbus is a significant investor in the property industry throughout Australia and has in excess of 750,000 members nationally. Cbus Property has responsibility for the strategic performance & management of all aspects of the Cbus direct property investment business including major investments and developments in the commercial, residential and industrial sectors. The portfolio currently exceeds $3.5 billion, with a further $4.5.0 billion of development work 'in hand', making Cbus Property one of Australia's leading integrated property investors in Australia. Cbus Property has extensive experience in undertaking sustainable initiatives within Australia and is committed to utilising its considerable experience in investment and delivery of developments that provide a benchmark for both economical and environmental sustainability.
About Bates Smart
Bates Smart is a multidisciplinary design firm delivering architecture, interior design, and urban design across Australia. With a staff of more than 200 people across Melbourne and Sydney, Bates Smart create award-winning projects that transform the fabric of a city and the way people use and inhabit urban spaces and built environments. Its hotel sector work includes design of Crown's Metropol, Promenade and Towers hotels in Melbourne, Pier One in Sydney, Crown Casino, Four Seasons in Sydney and the refurbishment of the Intercontinental Hotel in Double Bay.