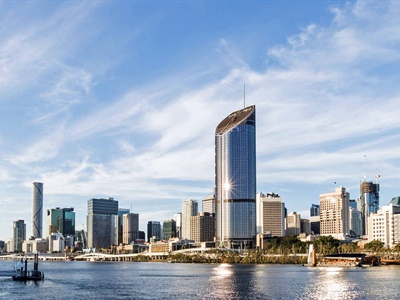 Cbus Property has completed the final storey of the Queensland government's new headquarters and the state's largest office tower at 1 William Street, Brisbane.
The 75,000-square-metre, 45-storey building, which is owned by Cbus Property and the Industry Superannuation Property Trust, has involved more than 1.4 million hours of work so far. It is worth more than $650 million.
State Labor Treasurer Curtis Pitt joined Cbus Property chief executive Adrian Pozzo and Cbus chairman and former Victorian premier Steve Bracks to mark the occasion.
Mr Pitt, who was controversially against the project when in opposition, even going as far as to say, "If Labor had been in office, 1 William Street wouldn't have been built", was full of praise on Thursday.
"Anyone who has driven past on the freeway knows that it is a very impressive building," he said. "The project has been a very valuable contributor.
"People know I have made comments about this building and how it was financed. I would like to cut a better deal on how much we are paying per square metre in rent. I just hope I can negotiate the next [deal]."
CFMEU Construction and General national secretary Dave Noonan, who is a director of Cbus, was also present, along with about 500 workers.