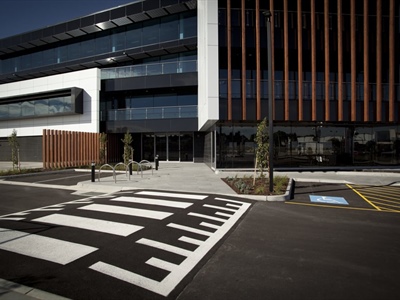 BUILDING industry super fund Cbus will pay $136.5 million for the one-time GMH Dandenong car plant, in Melbourne's largest industrial sale of the year.
Now a major business park, the property is the first industrial market foray for Cbus, which has $2.4 billion of office and residential projects in NSW, Victoria and Western Australia.
Cbus will buy the Estate One industrial complex at 81-125 Princes Highway from ASX-listed developer Phileo Australia, which paid $22.5 million for the 45.95ha site a decade ago.
With 90,000sqm of ageing Holden factory buildings, as well as about 13ha of undeveloped land fronting the busy highway, the site is a perfect fit for Cbus, which has a successful track record as a property developer.
Cbus, which manages members' assets of more than $12billion, has two Melbourne CBD office towers, another tower in the Perth CBD and a Sydney joint venture of more than 2000 houses at waterfront Breakfast Point.
Dandenong's Estate One industrial park had an estimated end value of more than $300 million, but industry sources expect the figure to be higher because Cbus has bought the property as a long-term hold.
The Victorian Government is spending almost $300 million in the area as part of a program to revitalise Greater Dandenong.
The Estate One property has 30,000sqm of new buildings that produce passing annual income of $6.1 million.
Its four anchor tenants are Panasonic, Ceva Logistics (formerly TNT), McDonald's restaurants supplier McKey Distribution and portable building company Ausco.
GMH retained about 12ha when it sold to Phileo in 1997.
The car maker's national parts distribution centre remains at the site, at the intersection of the M1 Freeway and Princes Highway.
Phileo, previously known as Renak Holdings, is headed by Malaysian-born managing director Rudy Koh, who is largely responsible for transforming the near-derelict industrial property into one of the best in southeast Melbourne.
Phileo's past Melbourne property plays have included its 1997 $18.8 million purchase of the former South Melbourne tram depot, which is now a $100 million-plus Kingsway office complex part-owned by Investa.
The Dandenong industrial park sale was brokered by Colliers International's Barry Marks.
Industrial Property No1 Ltd, as trustee of the Industrial Property No1 Unit Trust, bought the property on behalf of Cbus, which could not be contacted yesterday.
The cashed-up industry fund is involved in some of Australia's largest CBD office projects.
These include two towers at the corner of Bourke and William streets in Melbourne that will have about 75,000sqm of space.
In Perth, Cbus is building a 40,000sqm tower at 140 William Street and the state Government has committed to lease about 22,000sqm.
As well as the Breakfast Point residential project in Sydney, Cbus has a master-planned residential project near the CBD.
The Frances Park project involves 554 dwellings to be developed on an 8.52ha site over the next decade.