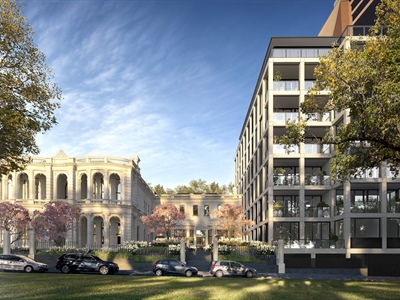 Super fund developer Cbus Property has joined Brookfield Property Partners for a $150 million upmarket apartment project in leafy East Melbourne, overlooking the Fitzroy Gardens.
The project comprises two sites: 22 Clarendon Street, which is opposite the park; and 178 Wellington Parade, which is around the corner and faces towards the Melbourne Cricket Ground.
Between the sites is the Brookfield-owned Pullman on the Park, now operated by Accor, which took over management from Hilton.
'This is an exciting new move for Brookfield as it represents not only our first joint-venture partnership with Cbus Property but also our first residential development in Melbourne's CBD," said Kurt Wilkinson, president of Brookfield Property Partners Australian office division.
East Melbourne's desirability, a historic enclave just outside the CBD, past the parliamentary precinct, was underlined by a recent survey which identified it as Melbourne's most liveable suburb.
Designed by Bates Smart, the development comprises an 11-storey residential building on Wellington Parade, with luxury one-, two- and three-bedroom apartments to be sold off-the-plan early in 20l6.
'We believe these apartments will be exceptionally well received by those purchasers seeking a premium apartment," said Cbus Property chief executive Adrian Pozzo.
In Clarendon Street, the project will involve the redevelopment of the historic Mosspennoch House, which will be converted into six top-end apartments. Nearby, a seven-level building will also be built on the vacant land on the site, providing another 12 prestige apartments, each with three or four bedrooms.
Brookfield gained control of the Hilton and the East Melbourne property three years ago through its $410 million takeover of Thakral Holdings. Brookfield will undertake a $6 million upgrade of the lobby and food and beverage facilities at the Pullman hotel.
For Cbus Property, the East Melboume project is a further step into the prestige residential market.
On the other side of the Fitzroy Gardens, it is developing a ritzy apartment tower at 35 Spring Street.
And in the city, on a mid-town Collins Street block, Cbus Property has plans for a $125 billion mixed-use project, including a 47-storey apartment tower.