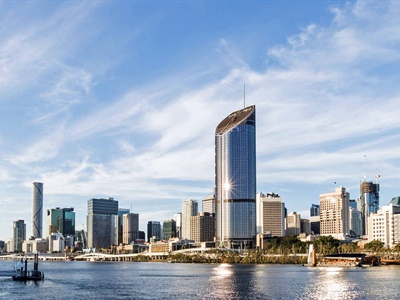 CBUS Property is on the hunt for acquisitions that will fuel its next development cycle as the company's work in hand moves past $3 billion.
And with the flow of money to Australian commercial property increasing, the company, which is the property arm of CBUS industry superannuation fund, has also opened up the $1bn Waterfront Brisbane project at 1 William Street, which it is developing for the Queensland government, to investment partners.
CBUS Property was named as the successful bidder for the project last year.
After a series of contract wins in the past year and the furthering of its residential arm, CBUS Property is now developing $3.15bn in office and residential property around Australia, including $400 million of apartments currently under construction.
Chief executive Adrian Pozzo is already targeting further commercial and residential development sites in preparation for the next cycle to start in 2016-2017. "We've got enough work until the end of 2016, so we're scouring the market in Australia now for our next lot of developments. But it's tough," he said.
"We might turn around and look at B-grade and C-grade stock to see what sort of value we can get out of it."
A number of REITs have turned to purchasing lower-grade buildings for value-add opportunities as the market for A-grade office towers becomes crowded with overseas investors.
An example is Dexus, which has bought B-grade office towers on Market Street in Melbourne and Carrington Street in Sydney.
The majority of CBUS's work in hand is in high-end, ultra-green office developments, which the company is building around Australia.
CBUS Property also has a further $400m in apartment developments under way.
Its commercial pipeline is $500m, while the developer's apartment pipeline — which is geared towards premium property — has reached 750 apartments worth $750m.
Just this month, the company has launched another premium Melbourne project — this time a high-rise at 35 Spring Street across the road from the Treasury Gardens.
Mr Pozzo said the company was looking to grow its residential brand following the success of its Sydney apartment projects.
In the past few months, CBUS has secured close to $900m in commercial property deals, including winning the contract to develop a new $653m office tower on William Street in Brisbane.
That deal followed soon after the group picked up the $240m contract to develop a new office for Victoria Police on Spencer Street in Melbourne, a project which Invesco is understood to have bought into. Mr Pozzo said the company was open to bringing in investors in its other projects, including its new William Street development, which is the first Brisbane project for the company and fully leased on a 15-year term to the state government.
"It'll be a tad like Spencer Street," he said.
"It's a bit too big for one developer.
"We don't want a joint venture development partner, so if we go down that path it will be a passive investor."
While Mr Pozzo declined to name any prospective investors, some funds thought to be looking at the building already included the Future Fund, Government Investment Corporation of Singapore and CPPIB. Mr Pozzo acknowledged that there was some weakness in the Brisbane leasing market, but that had not stopped the company from looking for further sites for future development.
"There are another couple that we may look at in the next six months that will complement the office tower, but 1 William Street gives us a good base," Mr Pozzo said.
"It's a four-year build; it's a good starting point, particularly in Brisbane."
But it is not all good news for the superannuation-funded developer. CBUS Property is at the centre of a conflict between its parent CBUS and the construction arm of the Construction Forestry Mining and Electrical Union over CBUS Property's dealings with Grocon.
Mr Pozzo declined to comment on the matter.
The union has been pushing for CBUS to sever its relationship with Grocon, one of Australia's largest developer-builders, as the dispute between the company and union — which has resulted in violent protests and legal action from both parties — continues to rage.
CBUS Property has one project with Grocon — the $450m development of 5 Martin Place. Grocon and CBUS Property also partnered on 1 Bligh Street, which was completed last year.