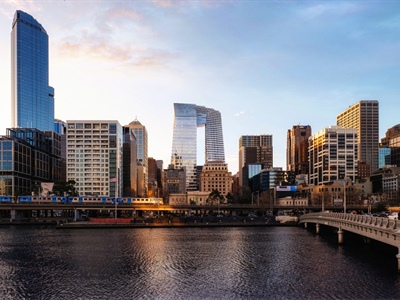 New York-based SHoP Architects, in partnership with local firm Woods Bagot, has won the brief to design a $1 billion project on a landmark Melbourne site held by Cbus Property.
The super fund developer went global in its search for a design team for the 6000-square-metre site at 447 Collins Street. The island site straddles a small rise as Collins Street intersects with ­William Street, in the fast-growing mid-town area.
Originally the site of the city's ­Western Market, it now hosts a large plaza and the decrepit Suncorp building, which Cbus Property will demolish to make room for a monumental ­development.
The property's size, prominence and amenity have won it the reputation as the CBD's most prized site.
The Woods Bagot and SHoP Architects team got the nod ahead of three other partnerships: Hassell with BIG from Copenhagen; Fender Katsalidis with Skidmore, Owings & Merrill from Chicago; and Bates Smart with Oslo-based Snøhetta.
Cbus Property chief executive Adrian Pozzo said the winning team would help "develop the best single site left in the Melbourne CBD into one of the most iconic developments in Australia to date". The project could generate as many as 8000 jobs in the broader construction industry.
The super fund developer is yet to reveal its vision for the site. Industry observers say the project will encompass both a residential and commercial component, along with retail and poss­ibly a hotel.
Cbus Property has been negotiating with town hall on how much public space will be included in the final design for the site, which was acquired from ISPT last year for $91 million.
"This site has the potential to become a key focus of public life in Melbourne's central business district, as well as a new point of entry into the cross-river cultural loop," said Vishaan Chakrabarti, a partner at SHoP Architects.
Donald Bates, chair of architectural design at the University of Melbourne and the designer of Federation Square, says Melbourne has historically not brought in big-name foreign architects to the extent that Sydney has.
"SHoP should be one of those firms who will think very imaginatively and creatively about how to achieve both the commercial requirements of Cbus as well as the social and urban demand requirements of the City of Melbourne," Professor Bates said. "They're a very up-and-coming, very dynamic, intelligent practice. I look forward to seeing what their design is.
"Melbourne has shown historically that the quality of its architects is of an international status. We didn't need to go and buy big names to bring them in like Sydney has done."