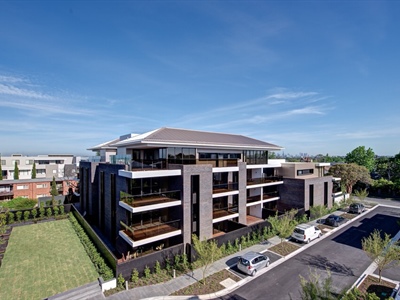 Cashed-up downsizers in the pricey Melbourne suburb of Brighton have shown strong interest in luxury apartments, with 25% of Cbus Property's Warleigh development sold within a week of its launch at the end of February. About 35% of the units have sold so far. Cbus Property acquired the 9,015-square-metre property at 30-44 Warleigh Grove, Brighton in December 2010. The disused North Brighton Croquet Club site was offloaded by the New Zealand-based retirement living company LifeCare Residences, which acquired control from ASX-listed fund manager Abacus two years earlier.
The development aims to emulate the indoor-outdoor feel of its freestanding neighbours, with half of the site's 9,000-square-metre block given over to open outdoor space.
"Growing up only a couple of hundred metres from Warleigh Grove, I have a close connection with the site, and a design sensitive to the neighbourhood character of surrounding street scape was a key criteria to the design brief," says Cbus Property development manager Andrew Potter.
"It's paramount as a designer to produce spaces that are not only aesthetically pleasing, but usable and functional," says Jack Merlo of Jack Merlo Design.
"The outdoor areas allocated to many of the homes are almost as large as the apartments themselves. Generous timber decks and the use of bluestone and natural stone materials give a warm palette and provide a complementary connection between inside and out," he says.
"The private courtyards and terraces have been oriented to look over the communal lawn area to increase the sense of space for residents."
The Warleigh will comprise a mixture of 108 townhouses and apartments across three sections: Luxe, Domaine and The Residences.
Domaine is the largest, with 62 one-, two- and three-bedroom apartments. Prices will range from $490,000 to $1.7 million, and they range in size from 57 square metres to 130 square metres, excluding terraces.
Luxe will comprise 39 two- and three-bedroom apartments, which will range in size from $970,000 to $1.7 million and from 87 square metres to 147 square metres, excluding terraces.
The most exclusive section is The Residences, which will be made up of seven three-bedroom townhouses priced from $1.9 million to $2.2 million. They will range from 180 square metres to 220 square metres and will include their own double garages and separate addresses.
The development is a 10-minute drive to Brighton Beach and a one-minute walk from North Brighton train station.
The project was designed by SJB Architects and aims to blend in with the older homes in Brighton.
"We have captured the stately home character that you see throughout Brighton and adapted it to this development," says SJP Architects director Charles Justin. "The architecture has very strong geometric forms and contrasting finishes to the facades such as metallic bronze, copper cladding and charcoal render, as well as natural materials including timber, brickwork and stone."