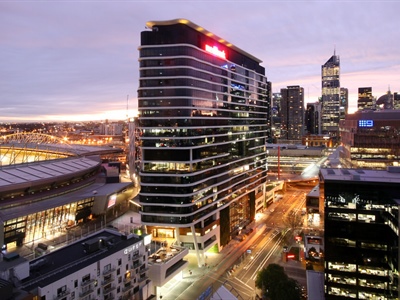 The Green Building Council of Australia partnered with New York-based WELL Building Institute earlier this year on providing WELL certification in Australia.
Melbourne's 720 Bourke Street office building was officially announced the first existing Australian property to receive a WELL Gold Certification.
The WELL standard rates buildings on the extent to which they support the health and wellbeing of their occupants, the standard was launched in 2015 to recognise buildings that promote health, happiness, mindfulness and productivity based on scientific findings.
The international rating is the first to go beyond sustainable building features with a focus on the health and wellbeing of the actual occupants of buildings.
The Docklands building was awarded the rating after Cbus Property enhanced its health and wellbeing features by increasing natural air to the building and installing community gardens allowing workers to grow their own food, among other initiatives.
Although 720 Bourke Street is the first existing building to receive WELL certification the WorkSafe headquarters in Geelong, developed by Melbourne-based fund manager Quintessential Equity, has received pre-certification from WELL.
A render of the new WELL-certified WorkSafe headquarters in Malop Street, Geelong
Cbus Property chief executive Adrian Pozzo said the WELL rating was a recognition of 720 Bourke Street's future-proof philosophy which results in buildings that can be upgraded to meet the evolving needs of its occupants and embrace new innovations.
"We are very proud of 720 Bourke Street being recognised as one of the healthiest buildings in Australia for its workers," he said.
720 Bourke Street's offering includes 16-storeys of A-Grade office accommodation, a multi-purpose sports court, amphitheatre, 1,500 square metre public open park, living green facade, 'green walls' and extensive end of trip facilities.
The floor plate and atrium design deliver abundant daylight to over 50 per cent of the floor plate, helping to improve the health and productivity of occupants.
The building also features ramp access for cyclists, bike-repair facilities and a new sustainability library.
Under WELL's "core and shell" classification, building structure, window locations and glazing, building proportions, heating, cooling and ventilation systems and water quality are taken in account.
Australia's commercial property sector and employers have since embraced the wellbeing movement with buildings vying to boost their wellbeing credentials to lure top tenants and help them attract and retain the best employees.